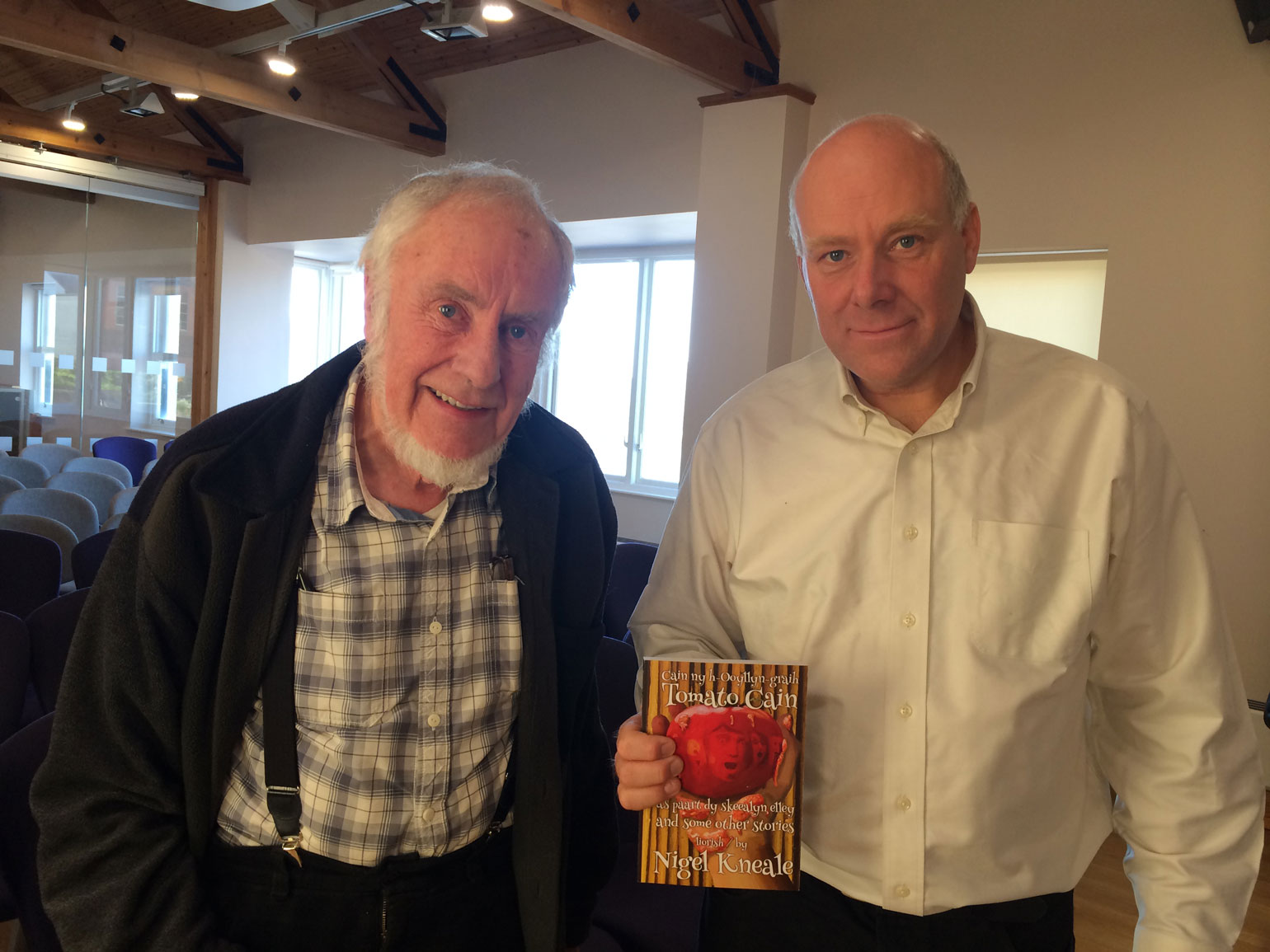 Nigel Kneale is remembered locally for being the Island's most successful radio, television and film script writer, and more broadly for writing groundbreaking screenplays for the cult 1950s BBCTV science fiction series, Quatermass.
But his son, Matthew Kneale, (also a published author) was invited to speak at this year's Manx LitFest, when he made two very successful appearances in Douglas and Peel to talk of his own work and that of his father.
The first event was held at the Manx Museum lecture theatre in Douglas, where Matthew Kneale spoke of his father's life and work before introducing a screening of the first episode of The Quatermass Experiment. He was later joined on stage by science writer Brian Clegg, whose new book will focus on the relationship between science and science fiction, for a broader discussion. The evening closed with an episode of Quatermass and the Pit.
On the following day, Matthew Kneale fulfilled a second engagement at the House of Manannan in Peel, where he spoke to a packed audience about his acclaimed book English Passengers. His story is set in the mid-nineteenth century on a Manx sailing ship. Captained by Illiam Quilliam Kewley and his crew from Peel, the vessel sails for
Tasmania after being chartered by a group of men seeking the Garden of Eden, against the backdrop of the rapid decline of the indigenous population of Tasmanian Aborigines.
Shortlisted for the Booker Prize in 2000 and winner of the Whitbread Prize, Matthew Kneale has written six other novels together with a non-fiction publication.
After reading selected passages of the book, the author was happy to answer a series of questions before signing copies of his novel, English Passengers, for members of the audience.
Although from a Manx family, Nigel Kneale was born near Barrow, (at that time part of Lancashire but now relocated to Cumbria), where his father had been employed as a journalist, but the family returned to the Isle of Man when he was a small boy.
A talent for writing was self evident in the Kneale household. Nigel's father, William Thomas Kneale, initially worked as a journalist, before joining his brother to run one of the Island's principal newspapers at that time, the Mona's Herald.
Nigel initially pursued a career within the legal profession, but upon reflection turned his thoughts towards another vocation; broadcasting live on BBC radio in 1946 reading his own short story with the wistful title Tomato Cain.
He later penned a number of short stories, also reflecting aspects of Manx life, which were brought together and published in 1949 under the title of Tomato Cain and Other Stories.
By this time, Nigel Kneale had moved to London to study at the Royal Academy of Dramatic Art (RADA), but discovered further success when is book of short stories won the Somerset Maugham Award in 1950. In the same year, Nigel Kneale's first professional radio script (based on the local Snaefell Mine disaster) was broadcast under the title of The Long Stairs.
Leaving his acting ambitions behind him, Nigel Kneale concentrated on writing for the emerging television industry, from which came the cult series The Quatermass Experiment, along with several commissions and other stories based on the Quatermass idea. Those with a keen eye, or ear, for detail, may notice a number of Manx surnames and place names associated with the Isle of Man, which he incorporated skilfully within his writing.
His work was to influence future drama of this kind, including the long running series Dr Who.
Declared Manxman of the Year in 1957, Nigel Kneale's success continued until 1997, although he made only a handful of return visits to the Island.
He died in 2006 at the age of eighty four.
His personal papers were subsequently deposited with Manx National Heritage.