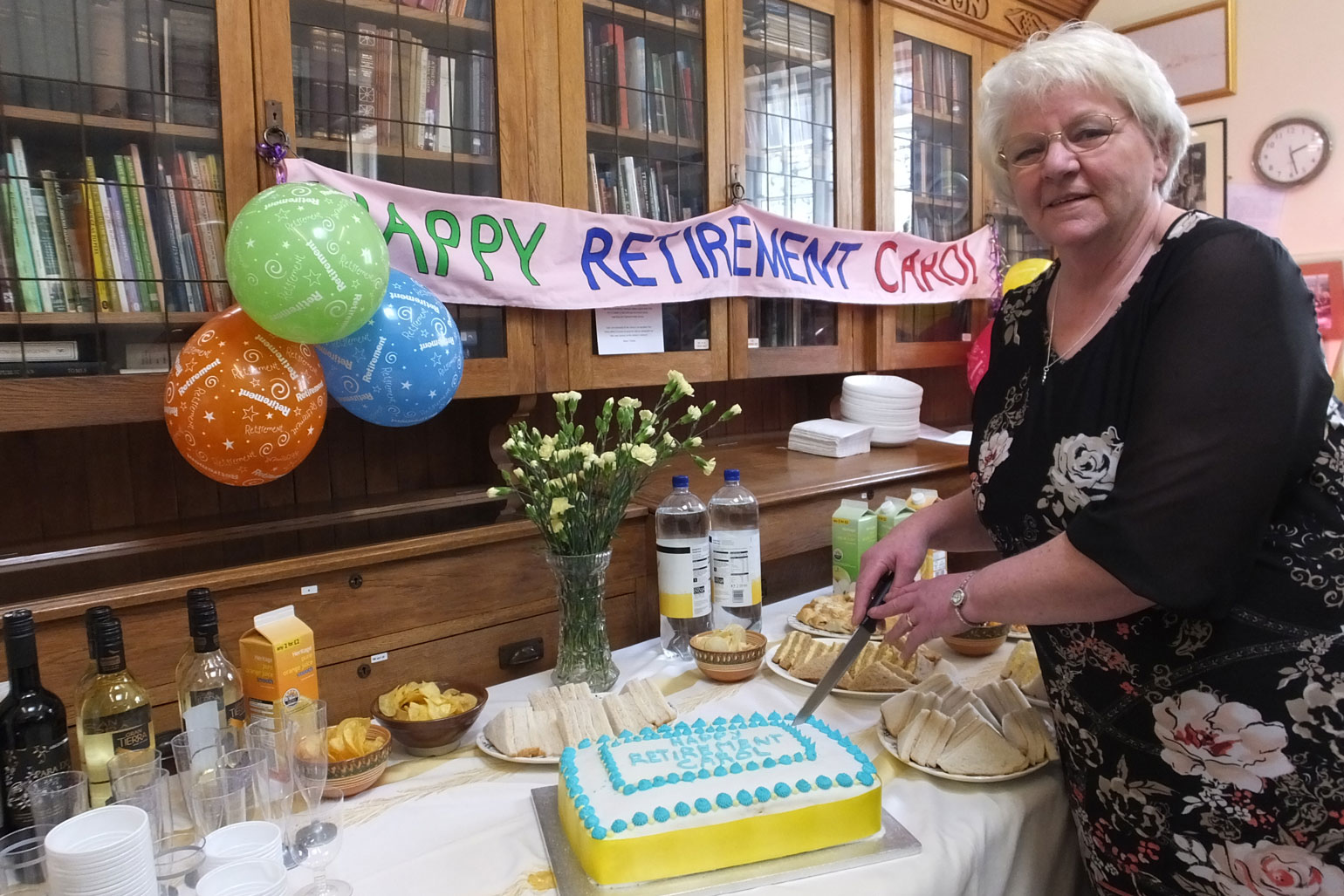 Carol, who took over the position from Mrs Myrtle Nicholson, celebrated her departure from the post with an informal get-together in the Sophia Morrison Room, where she was joined by family, friends and members of the library wishing her well in retirement.
She commented, "I am delighted that so many children have been able to come and see the new bookcases and kinder boxes in the junior library, bought with a donation from the family of Mr James Kewley Ward in Canada, keeping the links with Peel alive. At last I have been able to display the beautiful collage that Mrs Sue Collins has donated to the library. A separate anonymous donation meant I was able to purchase a lot of new books for the junior section and I hope that you all like the seaside theme. The disabled/pram access is almost completed and I'm very grateful to Peel Commissioners outdoor staff who worked hard to finish this project before my retirement.
Many of the changes at the library over the years have only been made possible with the support of Peel Commissioners and I would like to thank all of their staff, together with Chris Littler for his help in setting up the library's website."
A steady stream of well-wishers filtered through the library to enjoy Carol's farewell party, which was organised by a small circle of friends and helpers, with special thanks to Mrs Margaret Bowden who made an excellent retirement cake at very short notice, and Carol's husband and family for their ongoing support.
Carol said, "I would like to thank my colleagues at all the other libraries around the Island. Working on my own has meant that I have no-one to bounce ideas off and I have always known that they were just a phone call away if I needed help and advice. Castletown Librarian, Mrs Pauline Cringle, is also retiring at the end of April and I would like to wish her a happy retirement and thank her for all of her help over the many years we have worked together."
Jenny Gotrel, who has been on hand to man the desk in Carol's absence, has also decided to retire and Carol would like to extend her thanks to all of the many relief helpers who have come to her aid over the years.
Carol remarked, "I know I'm going to miss everyone and the day to day contact with you all. There aren't many jobs where the people you come into contact with become your friends; I must have the most friends in Peel! Thank you all for making this day so memorable for me, but I am excited about the future. I'm not closing a book, just opening a new chapter."
Miss Gemma Quilliam has been appointed as new librarian and will take up her position shortly.