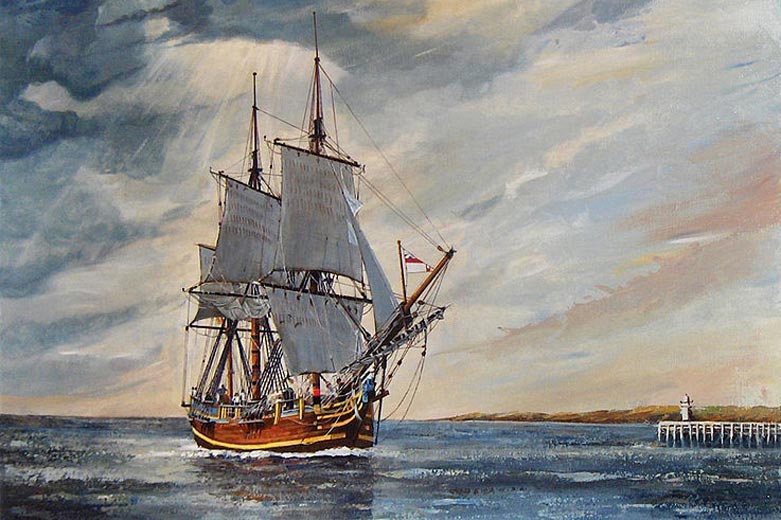 The Isle of Man has strong connections with the famous mutiny, which has been the subject of three hollywood films.
The Mutiny Itself
The mutiny occured aboard HMS Bounty in 1789, near Tonga. The armed transport vehicle's aim was to acquire breadfruit plants from Tahiti, before transporting them to grow in the West Indies.
After spending five months on the island collecting the plants, the ship set sail - but on 28th April 1789 everything changed.
1,300 miles west of Tahiti the ship was taken bloodlessly and apparently without struggle from any of the loyalists - except the Captain, William Bligh.
HMS Pandora was sent out by the Admiralty in November 1790 in pursuit of the Bounty, to capture the mutineers and bring them back to England to face a court martial.
She arrived in March 1791 and captured fourteen men within two weeks, however the ship was later wrecked on the Great Barrier Reef with the loss of 35 lives.
The Manx Connection
Lietenant William Bligh, who would later become Captain of the Bounty, was married in the old parish church of Onchan. His wife, Elizabeth Betham, lived at The Hague - which still stands off Summerhill Road in Onchan.
Elizabeth's father was the Collector of Customs at Douglas, and both his and his wife's graves can still be seen in the Onchan Churchyard.
Fletcher Christian was also aboard the boat (played by Marlon Brando in the subsequent film), and was from a branch of the famous Christian family of Milntown, Lezayre.
Midshipman Peter Haywood was son of the Deemster of the Nunnery estate in Douglas. Aged just 17, the Bounty sailing was his first voyage.
Haywood was sentenced to death - not for taking part in the mutiny but for failing to suppress it - but he was later pardoned and went on to serve with distinction in the Royal Navy for over 27 years.