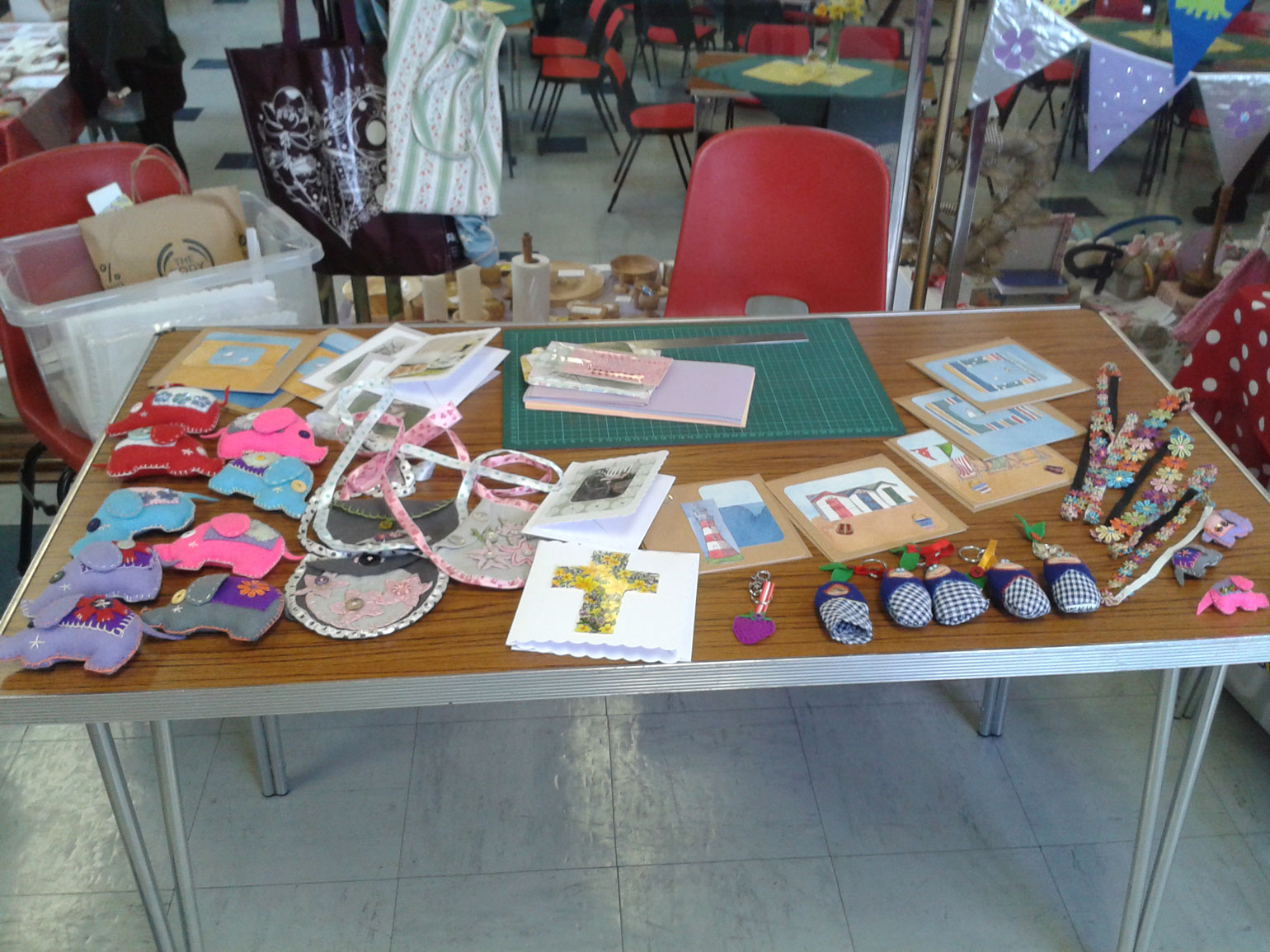 The Made by Manxies Craft Markets at The Promenade Methodist Church have been a regular feature on our Events Calendar for the past couple of years. Saturday 22nd November though sees the very last one and event organiser Keren Cowell is really keen that it goes off with a real bang.
Keren, how did you get into crafting?
I first got into crafting properly about four or five years back. My stepdad had a major heart op and afterwards my mum wanted to help raise some money for the unit at Broadgreen Hospital that had looked after him so well as well as their facility for families to stay in. So she had the idea of a coffee morning with stalls. I wanted to do something but didn't know what. I found some of my daughter toys beads and so made a few bracelets for a stall. Then a couple of months later the TV channels went digital and whilst channel hopping one day I discovered the 24 hour crafting shopping channel "Create and Craft "and from then on I was hooked.
What is your area of expertise and what is it you like about crafting?
My first foray into crafting was making a few basic Christmas cards the following Christmas in order to save a few pennies on Christmas shopping and from there I studied the demos on the craft channel and bought a few bits and bobs to get started. Card making is something I still do and enjoy but from there I have moved on to making jewellery, 3d pictures, simple glass painting, using felt and fabric in mixed media projects, decorating candles and doing whatever idea creeps into my head. I find that as a person whose brain does not know the word 'relax' or 'keep calm' that crafting does help to still my head and channel all those hundreds of thoughts that go round my head at once, so I can focus on things better. I do have certain stress and mental health issues and I find that crafting is my medicine in one way but in a non chemical way! I am no expert by any stretch of the imagination but at the monthly crafty evening I run, I always tell people that 'if I can do it with all my issues, then anyone can' and I do think that is the case. Crafting is for everyone, not just the artistically gifted, the already creative or the older generation.
Any tips for people who are thinking about taking up crafting themselves?
I am no crafty expert by any means and there are an awful lot of crafting techniques and styles I either haven't tried yet or am not that confident doing, and it is only in the last year that I have started trying what I call 'thinking outside the crafty box' as far as the way I craft and the products and tools I craft with, so the best advice I can give to anyone just starting out on their crafty journey would be to watch as many craft related shows; be it on Create and Craft - channel 674 or in demo videos on websites such as www.createandcraft.tv, www.britishcraftnetwork.tv or YouTube. Search for craft related pages on social networks like Facebook, Pinterest or Twitter. Buy crafting mags [these always have great free crafty gifts like patterned papers or crafting tools so are a great way of building up your crafty box stash] and/or look out for posters and flyers advertising a craft club/group. Or, and this may seem just a little cheeky, come along to the monthly group I run at the church [Promenade Methodist Church], called, wait for it, 'Papercrafting for the Petrified'. The group is open to all, whether young or not so young, already-crafters or never-before crafters, and the cost per night is just £2 which goes to church funds and includes all materials, use of crafty tools and refreshments [which usually includes homemade cakes]. Dates each month do vary but are announced as soon as they have been fixed with the lettings secretary and the time is always the same each night, 7pm - 9.30pm. The night is an evening of creating, chatting, laughing, sharing ideas, trying out and learning about various crafty tools, techniques and crafty stash, sharing crafty news and generally having a lot of fun! The first place to check for dates is always my page on facebook [Craftymanxiecreations] and also the Made By Manxies craft markets have a page on Facebook too if you want to have a look there as well.
You've been the organiser of these events since the beginning. Can you explain what your hopes/aims were when setting out.
The idea for the Made by Manxies craft markets was born out of a need for something a little bit different to be organised as a way to raise some much needed money for our church [the Promenade Methodist Church on Douglas Promenade]. There have always been fundraising coffee mornings, jumble sales, concerts and so on and so forth and I have nothing against them, they are always good fund raising events. But the trouble is that at these events you always seem to get the same group and generation of people attending and there also seems to be that many of them that no one particular event stands out. I knew that I did want to help raise some money but I didn't want to be sucked into the cycle of never-ending coffee mornings etc. I also knew that on the Isle of Man there was a lack of regular indoor craft events where local crafters could get what they did seen and noticed by the general public. So my brain started ticking and as a crafter myself I thought, well why not combine the two? And that was the seed of the Made By Manxies planted. Originally an idea for a a one off, then perhaps one a year maybe, then, well, the rest is history, as they say. In the two and three quarter years we have been going the Made By Manxies craft markets have grown into an event that is looked forward to by many local crafters with the stalls for each one usually being booked up within a month of the date of them being announced. Because I am a crafter on a tight budget, unlike other craft fairs/ markets, I have always tried to keep the table fee for stallholders as low as possible so that they have the highest chance of making a few pennies for themselves whilst helping us to raise some money for the church.
The church receives the money from the table rentals [this year set at £8 per table], admissions [£1], refreshments [which are something which not all craft fairs provide and which are very much appreciated by all attending], and a cake stall [which is another feature which makes us stand out from the crowd so to speak] so the markets as well as helping manx based crafters to show and sell their lovely handcrafted creations, is a good fund raiser for our church.
Are you planning anything extra special as this is the last one?
For various personal reasons the next Made By Manxies craft market will also be the last one which is sad but my decision to make it so has been an ultra tough one to make as the markets have been my baby so to speak and they together with crafting in general are one of my great passions in life. I have made some brilliant friends through them and I know that even after the doors close at the end of the upcoming market on November 22nd, that those friends I have made will be friends for life through our love of all things handmade and crafty. This is why I want to pull out as many stops as I can for the November market and so we have a total of 23 [got to work out just where we going to put everyone yet!] stalls with all sorts of crafts represented, a yummy stall with lots of homemade cakes, a special raffle, a 'lucky ticket' draw, a refreshments table in case those attending get thirsty and non alcohol mulled wine and mince pies for everyone who would like to get into the Christmas mood early! The market starts at 10am and goes through till 1pm.