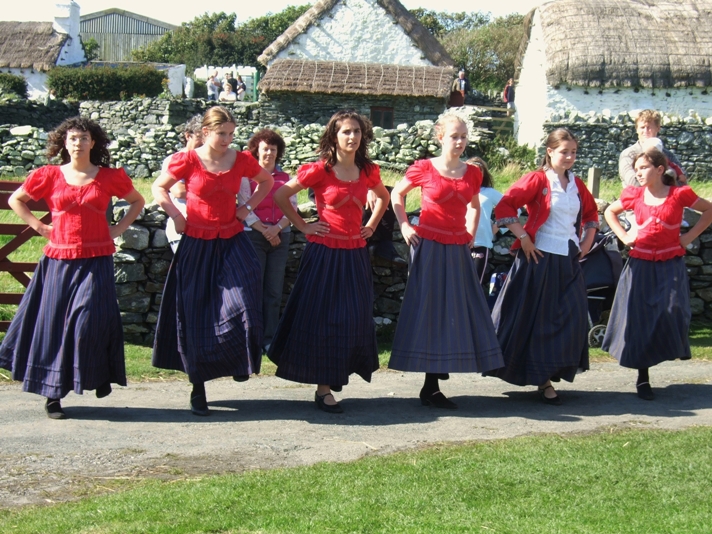 This colourful extravaganza was recorded as part of the International Folk Dance Festival held at the Villa Marina, with the support of the Isle of Man Arts Council, to celebrate the 60th anniversary of the Manx Folk Dance Society, featuring a diverse range of culture and folk dance from the Isle of Man, the UK and Europe.
Each of the visiting groups, seen here in a range of eye-catching national costumes with accompanying musicians, have been involved in sociable exchange visits with the Manx Folk Dance Society and hold long-term friendships. It was a rare opportunity to enjoy a medley of dances providing a vibrant and skilful performance at the Royal Hall on a memorable evening, but if you missed it then here's a chance to view it from the comfort of your armchair.
The DVD explores an astonishing fifty eight dances performed by thirteen groups, with bonus outdoor material filmed on location at Castle Rushen and in the Mooragh Park, courtesy of the Manx Video Camera Club.
With a number of viewing options available, it's possible to watch the entire performance, view individual dance groups or select single dances. And for those with a dedication to detail and footwork, you'll also find brief information about each dance and corresponding group.
Supported by Culture Vannin (formerly the Manx Heritage Foundation), and suitable for all regions, it's a distinctive two disc bumper bundle available from the Lexicon Bookshop or from the Manx Folk Dance Society's website priced at £12.