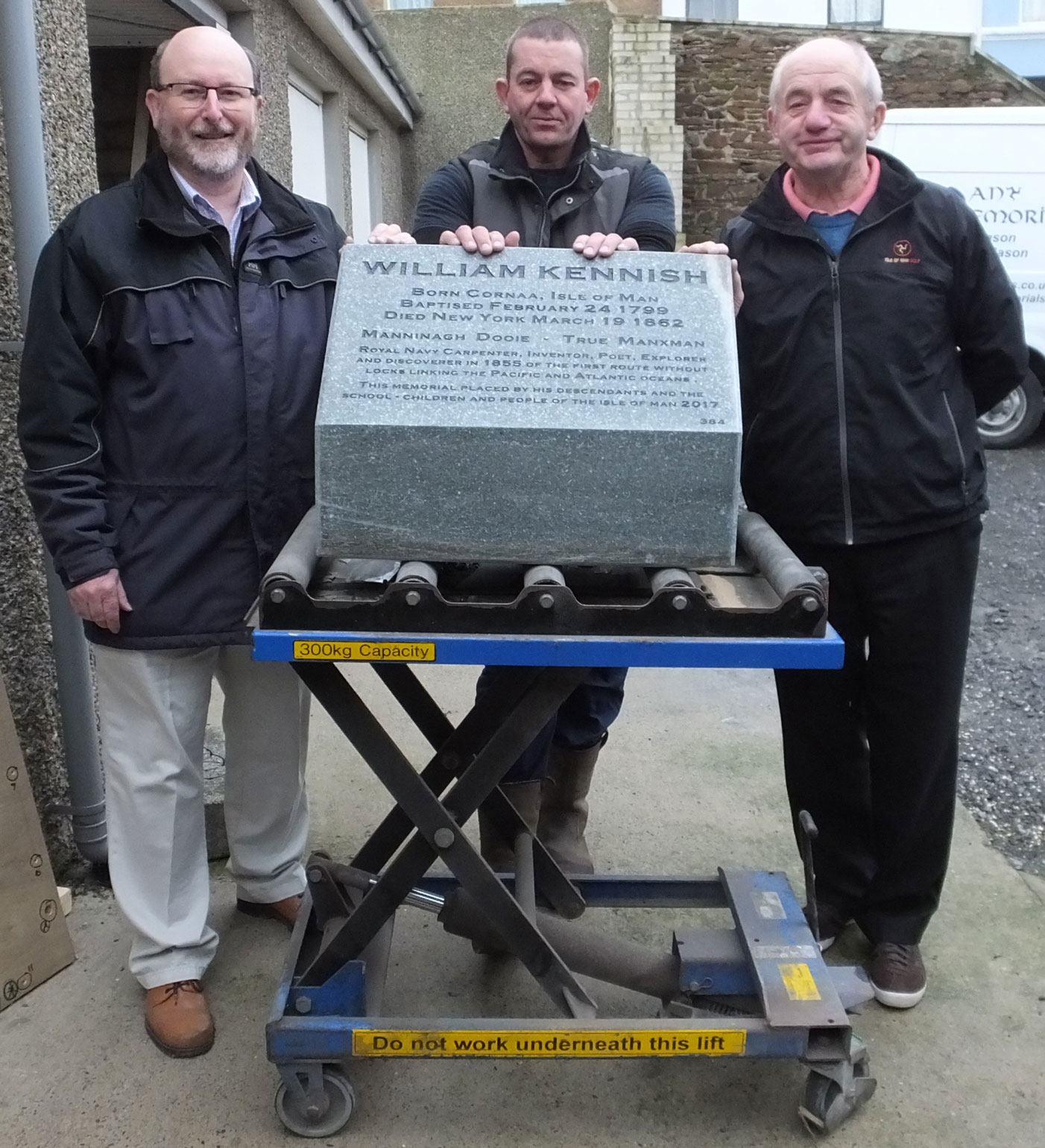 As the worldwide achievements of Manx men and women continue to bring international recognition for the Isle of Man, Bob Stimpson and Roy Moore have successfully joined forces, as trustees, to raise funds for a memorial to be dedicated to one of the Island's most prolific inventors.
The campaign's success has now secured shipment of the stone for cutting before transfer to Manx Memorials for specific work on the grave-marker's inscription by Matthew Gregson.
William Kennish was born at Cornaa in 1799, and although he modestly described himself as illiterate, was later rapidly promoted within the Royal Navy. The son of a farmer, Kennish spoke only Manx Gaelic when he left the Island, but this didn't hold him back. As a self-educated engineer, Kennish didn't lack imagination, producing a number of new ideas which included the Marine Theodolite, part of the first gun commander system in 1828, and an ambitious plan to provide a Harbour of Refuge at the Calf of Man.
He returned to the Island in 1844 with his family, briefly spending time in Castle Rushen Debtors' Gaol, before presenting a 3,000 signature petition in London to improve the harbours on behalf of Manx fishermen. He later headed for the USA to further his career.
However, Kennish's most outstanding achievement is, perhaps, reflected in his work to locate a route for what is now the Panama Canal. Undertaking seven complex surveys across hazardous territory, Kennish remains the only person to have successfully found a canal route without locks across the isthmus, and although un-adopted, his plan has been re-examined.
Kennish died of pneumonia in 1862, but the complications of typhus prevented his burial for seven years, and although eventually laid to rest in New York, he lies in an unmarked grave in Green Wood Cemetery.
But the William Kennish Memorial Trust, established on the Isle of Man, hopes to change this situation, inviting donations which will be used to provide an appropriate memorial stone as a fitting conclusion of his life.
The trustees will need to raise in the region of £5,000/US$7,000 for the project, which will include shipment of the headstone to New York. A brief dedication ceremony will take place on the one hundred and fifty fifth anniversary of William Kennish's death on the 19 March, 2017 at Green Wood Cemetery.
Those who wish to donate are requested to contact Dana (Deke) Kennish Smith.
Further information about William Kennish can be found on The William Kennish website, or by reading Bob Stimpson's book William Kennish -Manninagh Dooie - True Manxman.