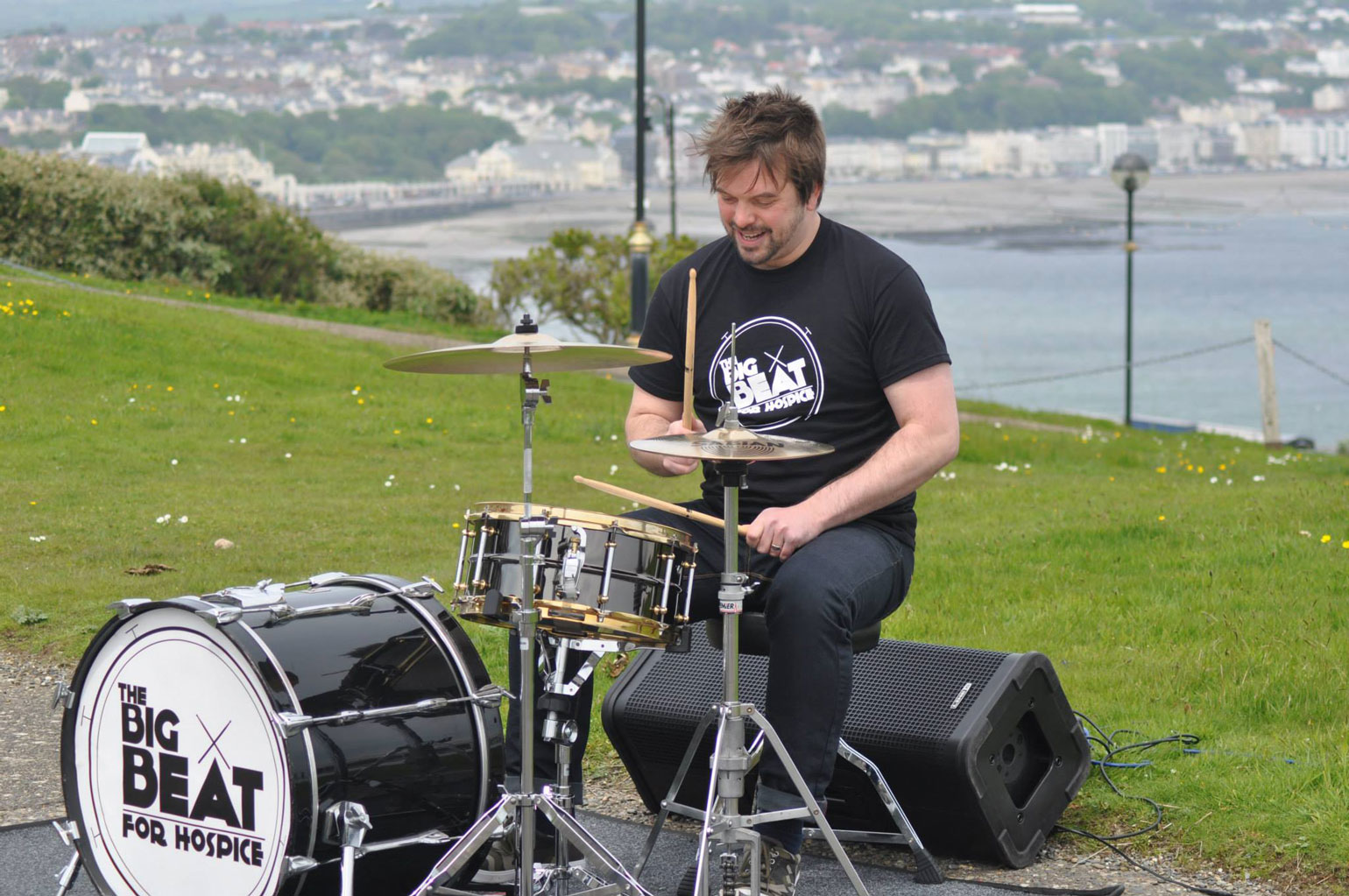 Ahead of the 48-hour marathon charity event we caught up with Martin Rigby one of the Big Beat Committee members.
Can you tell us more about what The Big Beat For Hospice is please?
The Big Beat for Hospice is taking place from Friday 31st October to Sunday 2nd November and is an endurance drumming event which will see a team of local drummers play in unison, along to many well known tracks, for over 48 hours to raise much needed funds for Hospice Isle of Man.
Where did the idea for Big Beat for Hospice come from?
The idea for the Big Beat For Hospice originated from a discussion simply to get a few drummers together for a drink over Christmas 2013, this idea evolved in to getting some drums together for a jam as, unless you're in King Crimson, Genesis or Polica, it is highly unlikely that a drummer will play with another drummer! Over a very short time period this idea progressed to raise funds for charity and also to attempt a world record for unison drumming, which has never been attempted before.
A committee was then formed consisting of John Cleator, Andy Frankland-Davies, Andy James, Steve Leach, Jon Peacock, Noah Egelnick, Ben O'Hare, Lee Stevens and myself to move the idea forward and as we progressed we found that the official Guinness regulations were very restrictive in how such an attempt could take place. As the weeks progressed we realised that the most important aspect of this was to raise funds for charity so we collectively made the decision to run the event to our own rules, loosely based on the Guinness regulations and simply focus on both raising as much money as we can for charity and also making this an enjoyable event to take part in.
As many of the drummers taking part have had a direct experience of the invaluable work which they give, we chose Hospice Isle of Man as our charity.
The subsequent months have passed in a blur of fundraising, performances and awareness events.
Tell us a bit more about the actual Big Beat For Hospice event?
The event is being held at the Villa Marina Promenade Suite and will see a minimum of three drummers playing at all times but usually there will be five or more playing. Throughout the weekend we have a number of guests appearing with us such as Burlesque entertainment from Sanguine Shee on Friday evening, a Celtic Drumming workshop with Catherine Wareing from 12pm on Saturday and from 8pm on Saturday evening we have our DJ night; 8pm till 10pm there will be a Funk and Soul mix from the Ballagroove DJs, then at 10pm an hour of Ska music presented by Big Al Kneen and from 11pm till 1am a Dance Music mix from the Audiowok DJs.
On Sunday we have the Big Beat Raffle from 2pm and the all-important Final Hour from 3pm.
There will also be public drum kits open for anyone to come down, make a small donation and get on the drums and have a play. We will also have a range of percussion and an electric drum kit available so there is something to suit everyone!
You mentioned there is a Big Beat Raffle?
Yes, on Sunday afternoon we will be drawing the raffle prizes. Tickets are on sale now from any of the Big Beat drummers, from the Hospice Shops and will be on sale during the Big Beat For Hospice event for £2 each. We have over 25 prizes ranging from meals out, free gym entry, fitness classes as well as Isle of Man Steam Packet travel vouchers and a complete drum kit!
I'd imagine organising a big charity event must have it's challenges?
Absolutely, none of us had any experience with hosting an event of this nature, which has been almost a whole year in the making, and with the hindsight of the experience we now have, we would have started this whole process a good 6 months earlier to tie in with the start of the corporate financial year. We are very lucky to be supported by some fantastic sponsors who have not only donated cash but also services, time, raffle prizes and invaluable advice so we extend our thanks to everyone who has helped, in particular WiManx, Bridson and Horrox, Production One, 3FM, Manx Telecom and also the fundraising team at Hospice Isle of Man for their support as well as our family and friends who have put us with us for the last 11 months!
If people want to get into drumming how could they go about it?
Personally, I started in a friends' garage, on borrowed drums, making noise for the absolute joy of it and we were awful but it was the most fun! The first thing I would always recommend to anyone who is interested in getting involved in music is go and see your local music store, they will give you the right advice to get you started, for your first drum kit or even if it is just a practice pad and a pair of sticks. Go and introduce yourself, they'll also be able to point you in the direction of the right gear, educational books and also a good teacher.
The Internet is also a fantastic learning tool, particularly YouTube, there are hundreds of free lessons and exercises which will keep you busy if you don't want formal, structured teaching. The drum stick manufacturer Vic Firth's website is an absolute goldmine of instructional videos and usually my first point of call if I'm struggling with any new things myself. There are also many great forums such as www.drummerworld.com and www.mikedolbear.co.uk and, of course, the Manx Drummers group on Facebook.
The beauty of music is that there are so many styles to learn and enjoy, go and listen to as much music as you can, particularly styles of music which you wouldn't normally listen to, there are many great drummers out there which can inspire you no matter what style you want to play.
For youngsters there are many fantastic opportunities now to get involved in music which were not available when I was growing up such as the excellent facilities provided by Soundcheck and also many schools have great facilities too. Speak to your teachers and they will point you in the right direction.
Also, for those a little older; go and support the local music scene, there are bands playing all over the Island, every weekend, go and chat to the drummer and ask questions. The drumming community on the Island is very friendly and I'm sure they'll be happy to answer any question you have.
Finally, come and see us at The Big Beat For Hospice, what better way to get started than with a room full of drums and drummers?!
Personally, if you could play with anyone (dead or alive) who would it be and why?
Very tough question. I'd say alive would be Steven Wilson who is the frontman of British progressive rock band Porcupine Tree and also a very successful solo artist in his own right. His albums cover a huge range of styles and in one gig you could be playing a mix of heavy metal, beautiful ballads, instrumental soundscapes, jazz and folk and straight ahead pop songs. The closest I'll get, however is playing along as well as I can to his albums!
Of those not with us any more it would be with Kurt Cobain from Nirvana, a band which I grew up listening to and he is one of my all time favourite singers, 'Dimebag' Darrell Abbot from Pantera, one of my favourite guitarists and John Lennon, who needs no introduction; Quite an eclectic mix!
Any final words about The Big Beat?
Come and see us at the Villa Marina Promenade Suite from 1pm on Friday 31st October to 4pm on Sunday 2nd November. For further information see our videos by going to our YouTube Channel.