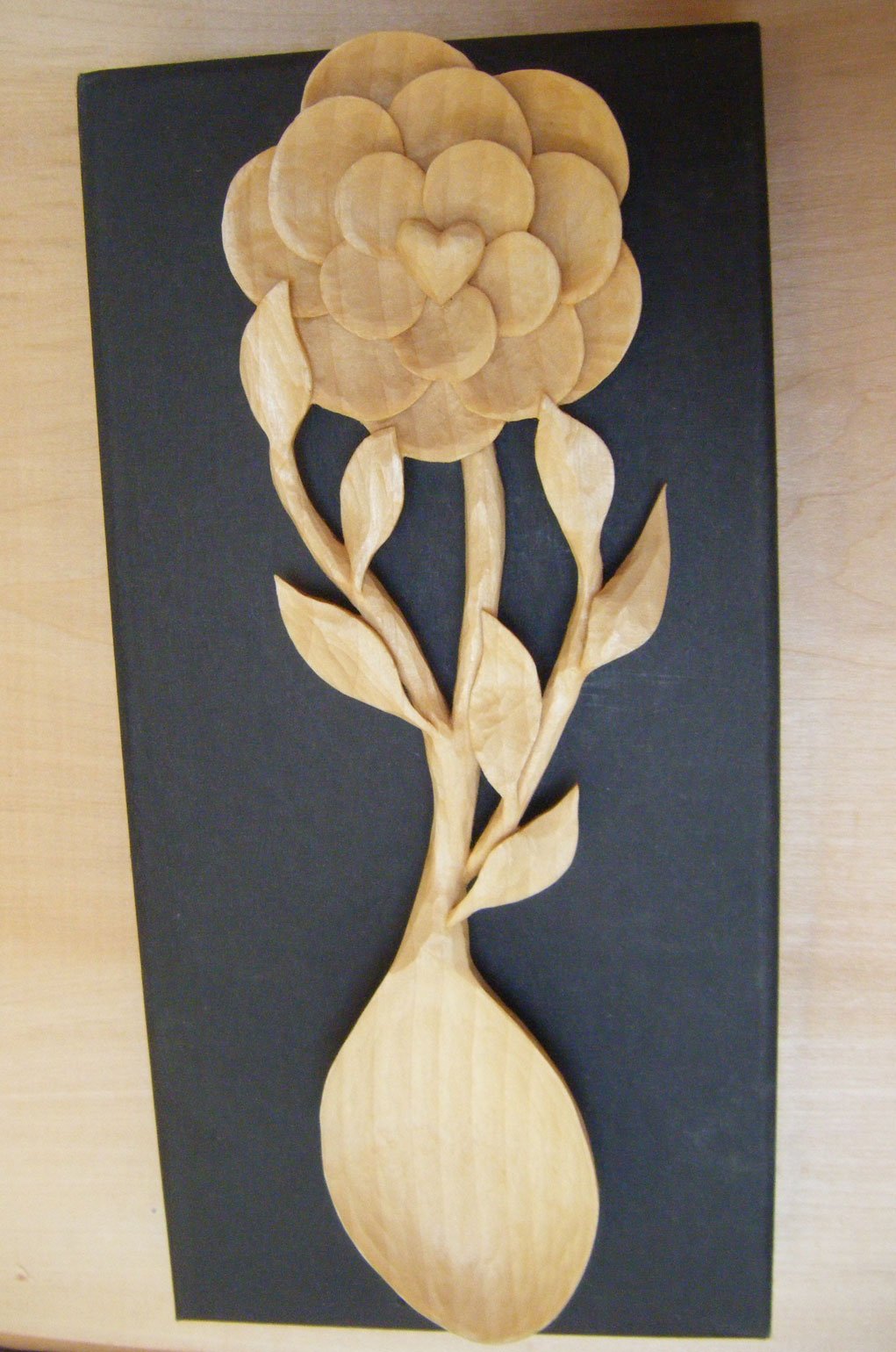 Looking for a new challenge this summer? Then why not try your hand at making a decoratively carved Celtic lovespoon from expert craftswoman Sharon Littley, who will be leading two workshops during this year's Yn Chruinnaght Inter-Celtic Festival in July.
With their origins firmly rooted in centuries old tradition, they're recognised worldwide for their romantic associations, and were originally made by young men during long winter nights or on long sea voyages, so as to express their intentions of courtship towards a particular girl. Some lucky lasses might receive lovespoons from several suitors, which they would display on the walls of their homes.
The tradition of carving lovespoons is thought to have been derived from the making of culinary spoons, with the giving of a spoon symbolic of the expression of the wish to 'feed' or support the object of the prospective suitor's desire. It would then be decorated and invested with symbols in essence of the suitor's hopes and dreams.

The earliest surviving lovespoon, held at the National Museum of Wales at St Fagan's near Cardiff, is said to date from c.1667, but Welsh lovespoons are known to have been made by the men folk of Wales throughout the seventeenth, eighteenth and nineteenth centuries. The custom lost its popularity towards the end of the nineteenth century and the beginning of the twentieth century, but a recent revival has championed the lovespoon as a commemorative gift for any number of special occasions; integrating both traditional and contemporary design.
Born and raised in the area of Bridgend in South Wales, Sharon Littley has become a leading expert in this field. She initially chanced upon wood carving, but has now become Welsh Regional Leader of the British Woodcarving Association. A growing reputation led to a number of adult education classes and the establishment of her own business Heartwood.
Sharon commented, "Heartwood epitomised everything I did - the medium I worked in (wood) and the fact that I put my heart and soul into everything I do; heartwood is also the centre of the tree = as it's the centre of my life."
In 2002 she co-authored the book Celtic Carved Lovespoons - 30 Patterns, published by the Guild of Master Craftsmen, and has also written for woodcarving magazines in Britain and the USA. Sharon has also promoted lovespoon carving and Wales itself in the USA, Japan, Ireland, Holland, Belgium and France.
Now established on a professional basis, Sharon organises wood carving classes and accepts a variety of commissions, but with lovespoons very much at the heart of her work.
As part of her visit to the Island, a selection of Sharon's lovespoons will be displayed in the window of Celtic Gold in Peel during the weekend 18 - 19 July.
Each workshop lasts for four hours, with all equipment provided to make your very own lovespoon, for just £30. No previous experience is necessary, although those under sixteen must be accompanied by an adult. The workshops are not suitable for those aged under twelve.
The workshops both start at noon (18 July at the Corrin Hall in Peel 19th July at the House of Manannan in Peel) and must be booked in advance.
Tickets for each event may be purchased from the Yn Chruinnaght Festival Office, The Stable Building, The University Centre, Old Castletown Road, Douglas, Isle of Man. IM2 1QB, with cheques payable to Yn Chruinnaght.
The Yn Chruinnaght Inter-Celtic Festival is supported by Culture Vannin, the Isle of Man Arts Council and Manx Telecom.