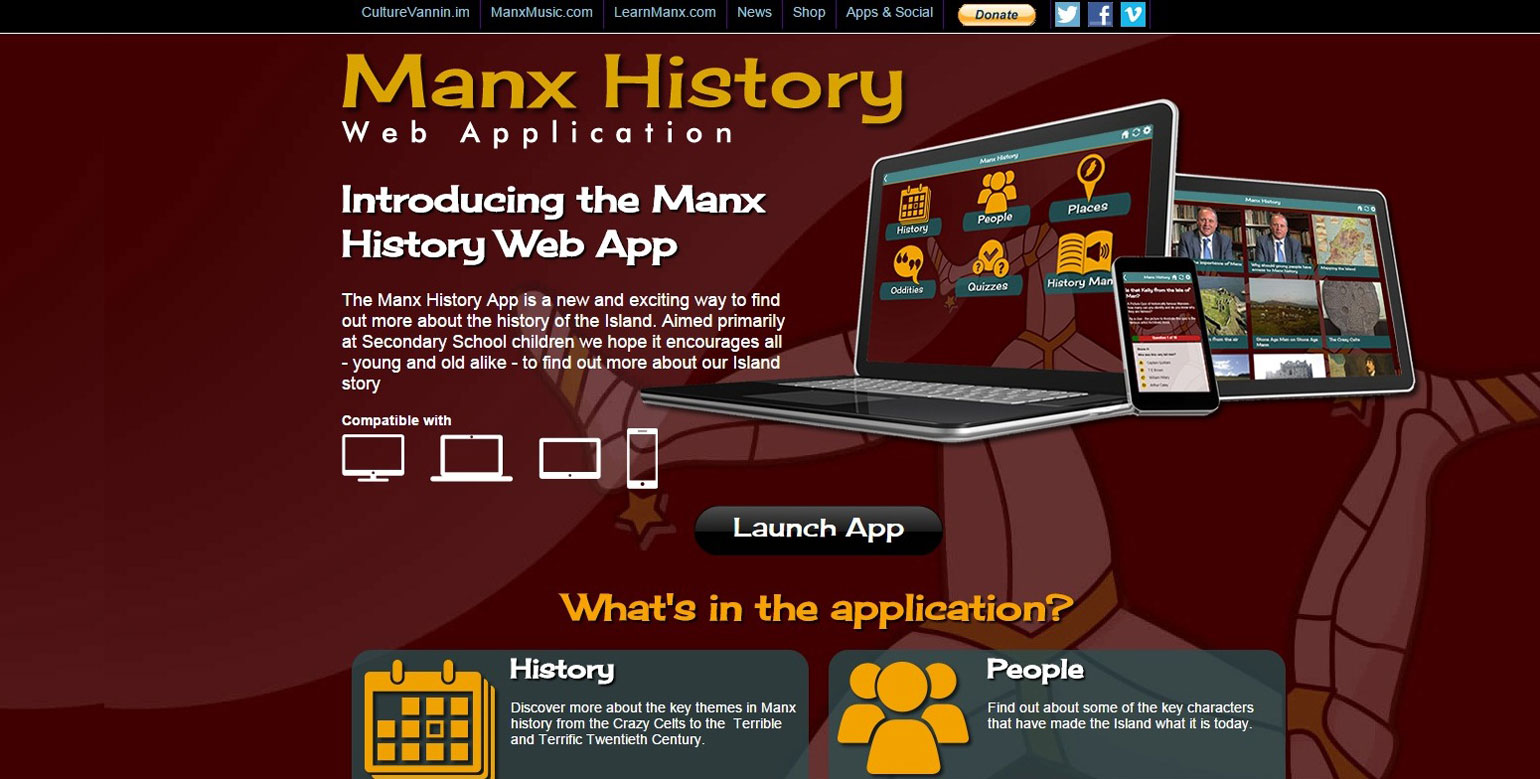 Culture Vannn are pleased to announce the release of a new app that has been developed to encourage students in secondary schools to find out more about our unique history.
Available for download at: http://www.manxhistory.com/ the app has been developed by Officers at Culture Vannin in conjunction with Jo Ewan formerly Head of History at St Ninian's High School. Additional funding has been gratefully received from both the Gough Ritchie Trust and the Gaelic Broadcasting Committee.
The app has its origins in discussions between Jo Ewan and Culture Vannin regarding the possibility of new and innovative ways to try and encourage secondary school students to engage in our Island story. Culture Vannin had already developed two language apps and felt that extending the idea to Manx history offered a creative and cost-effective solution to support the Island's schools in the delivery of Manx Studies in the curriculum.
Officers at the Department of Education and Children and Manx National Heritage have been supportive throughout. The app has been developed to work both on mobile devices and desktop computers and covers the main topics and subject material that Year 7-11 history students are likely to encounter; Jo Ewan has also developed support material for history teachers to help them use the app most effectively.
Although mainly targeted at secondary school students, the subject matter, famous Manx men and women, places of historical importance, quizzes and the numerous videos from the Culture Vannin archive means that this resource will be used and enjoyed by people of all ages.
The app includes material in both English and Manx, and will be added to as new texts and videos become available.
Phil Gawne, MHK and Chairman of Culture Vannin commented that, 'he was proud of Culture Vannin's role in a project that would result in more young people engaging in our Island story '
Ronald Barr, Chief Executive of the Department of Education and Children said, 'That his Department are delighted to endorse this new app, which highlights the importance of our History to our island and our community. This has been a project which should inspire us all to think about the rich culture and heritage of this island.'
The app officially launched at St Ninian's Lower School Library at 10.30am today, Wednesday, 28th January.