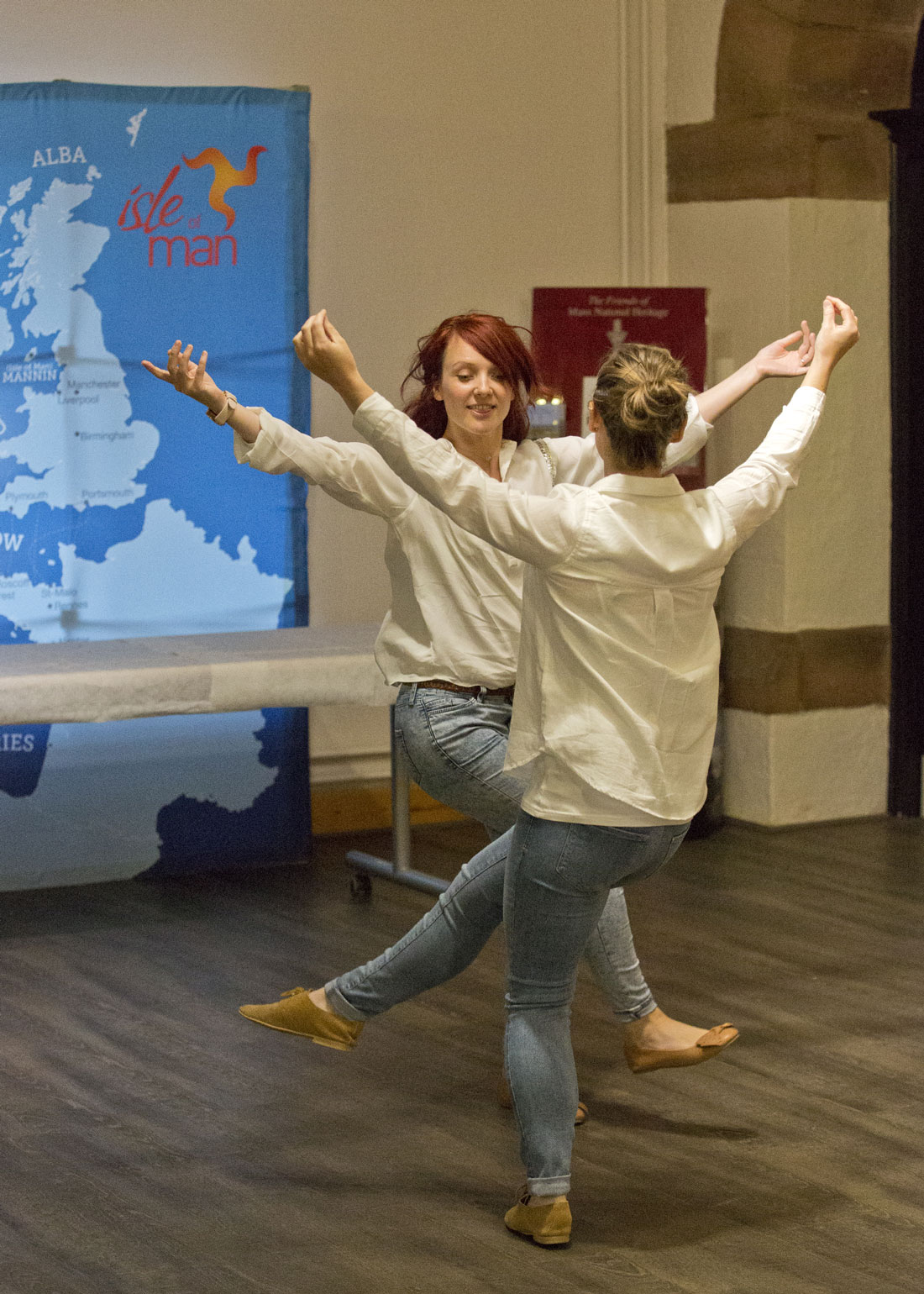 Manx Dancers Grainne Joughin And Ali Carroon (credit Jiri Podobsky )b
As things hot up for the annual Festival Interceltique de Lorient in August, the Isle of Man welcomed a group of French journalists as a precursor to the main event, when the Island will become this year's honoured nation in partnership with Cornwall.
It's the first time in the festival's forty five year history that the Island has been awarded this priviledge, and in response to this unique opportunity will be sending over a hundred Manx musicians, singers, dancers and visual artists to represent the Isle of Man.
Visiting journalists availed themselves of a wide-ranging tour organised by the Department of Economic Development and Culture Vannin in conjunction with Manx National Heritage, enjoying a weekend of exploration centred on the Island's culture, history and scenery.
Representatives of the TV channel France 3, the Director of the Heymann Renoult PR agency and journalists from high profile newspapers Les Echos, Ouest France and Le Telegramme, sampled locally produced food and drink, experienced the thrills of the TT course, visited archaeological and historical sites and travelled on some of our highly accalimed heritage railways.
They were accompanied for part of their stay by volunteer Manx delegate for the festival, Ealee Sheard, and met with some of the participants from the Island delegation. Two of the larger groups, representing the Island in Lorient (dance team Ny Fennee and Rushen Silver Band) were filmed by TV channel France 3.
During the weekend, the House of Manannan provided a perfect setting for an informal reception and showcase of Manx culture, language and produce, organised by Peter Young of Event Management Solutions in conjunction with Culture Vannin.
Visiting press were treated to performances from guitar and mandolin duo Strengyn, Gaelic choir Caarjyn Cooidjagh, fiddle player David Kilgallon, who played excerpts from his new Inter-Celtic piece "The Gathering" (sponsored by the Malcolm Scott Dickinson Trust) which will be performed at the opening gala night, Manx singer Cairistiona Dougherty, who will be performing in Alain Pennec's musical ensemble for the screening of silent movie, "The Manxman", and a stunning dance display from Grainne Joughin and Ali Carroon, together with mini dancing siblings Frank and Lowenna Joughin. Bumbee cages by Dessie Robinson and John 'Dog' Callister were on show, and Manx art exhibition coordinator for FIL, Nicola Dixon represented the Manx artists whose work will form part of a major art exhibition in Lorient. The journalists also enjoyed a queenie cookery demonstration, with commentary from Head Chef for the Manx/Cornish pavilion, Yohann Bonjus. Representatives from Isle of Man food and drink producers were also present to tell journalists more about what the Island has to offer mainland Europe.
A spokesperson for the weekend event said, "The Department of Economic Development was delighted to support Culture Vannin with the visit of the French journalists. With 800,000 visitors expected to the festival in Lorient later this year positive press coverage will help promote the Isle of Man as a visitor destination and true Celtic nation and will enhance awareness of our presence in the Main Pavilion at the festival."
Festival Interceltique de Lorient is Europe's largest Celtic festival and attracts visitors from all over the world and over 300 journalists from across Europe. In conjunction with Cornwall, the Isle of Man will take over the main pavilion in the town, offering 14 hours of live entertainment each day, a restaurant and bar selling Manx food and drink, tourist and cultural information, and a retail outlet for local products. Manx culture will also be presented throughout the festival programme with several major events focussing on the Isle of Man.
This year's presentation represents a working partnership between the Festival Interceltique de Lorient, Culture Vannin, the Isle of Man Arts Council (DEC), DEFA, DED, Manx National Heritage and local businesses on the Isle of Man and Cornwall Council and the Cornish Language Partnership in Cornwall.
For more about the festival, check out their website.