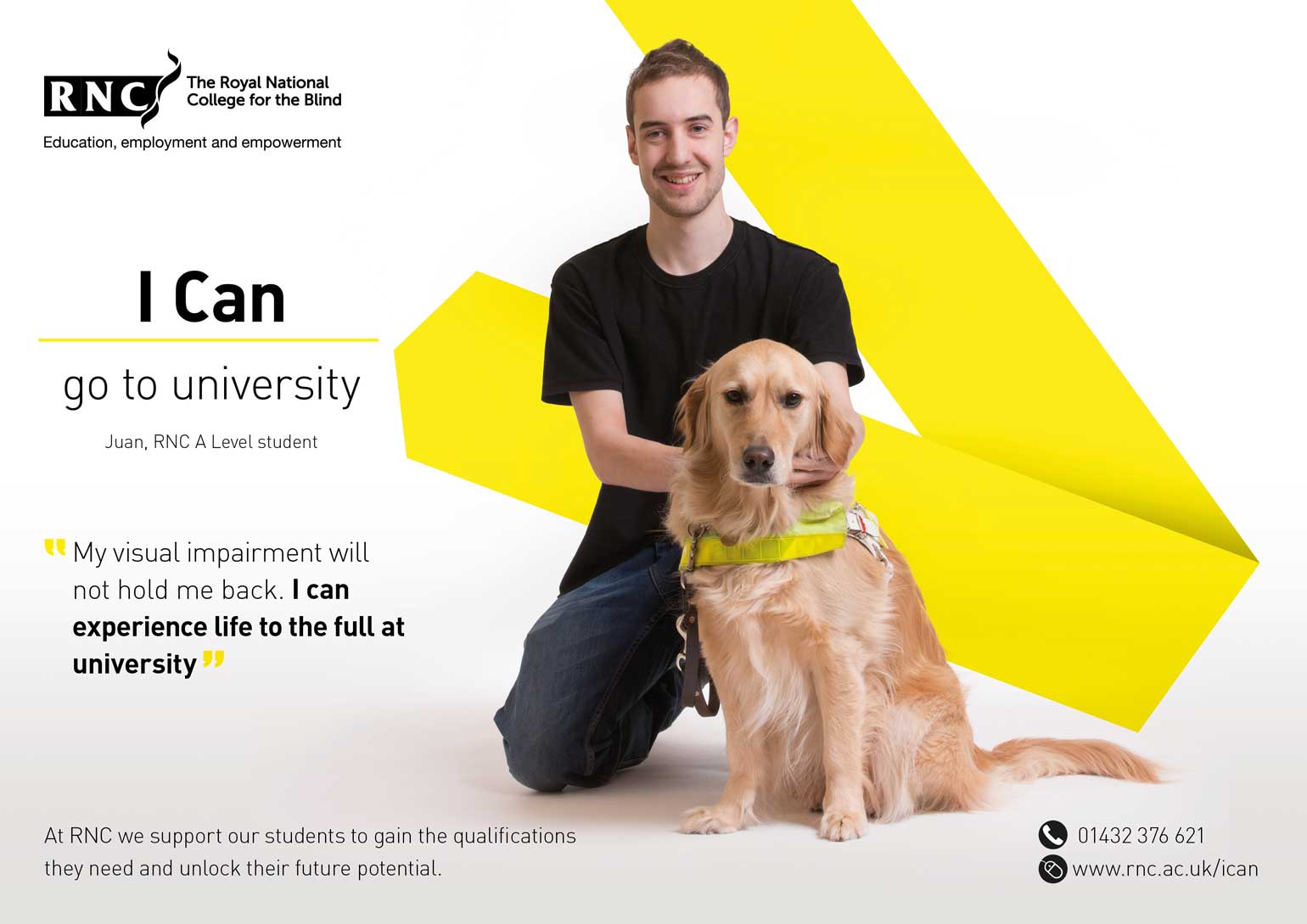 Juan Greggor, 22, can be seen in The Royal National College for the Blind's 'I Can' campaign which aims to highlight what students and staff at the College can do and is a direct challenge to the stereotypes that people with visual impairments face.
Juan is well-known at The RNC as a grounded young man with an academic flair and a planned career in mind. He plans to go to university to study Psychology with Counselling Studies and in the future hopes to set up a clinic here on the Island with his sister, who has recently graduated with a BSc in Speech and Language Therapy.
Having Retinitis Pigmentosa (RP) and cataracts, Juan had depleted vision throughout most of his childhood. He originally sat his AS Levels in 2010. Just two weeks before his exams he suddenly lost the remaining vision in his right eye, which led to incredibly disappointing results.
Having left sixth form without completing his A Levels. He did some work experience placements and gained some vocational qualifications at the Isle of Man College. With the support of the Manx Blind Welfare Society he taught himself JAWS, an accessible software package, but by the summer of 2012 he was unemployed. At this point he heard about RNC and decided it was time to revisit his dreams of university.
Juan said: "I began my studies in November rather than September, due to funding issues, but had caught up with all my work by the January and felt I was well on my way to being level with my peers again. Being at a specialist college gave me an opportunity to develop friends of my own age who are in a similar situation."
"I was told I was never any good at writing essays, so to be able to come out with an A in my English coursework after six months of practice is an accolade to both me and my teachers here at RNC."
He created a video for his 'I Can go to University' theme, filming around his busy lesson timetable. And he laughs about the effort that went in to making sure that it looked right, including not cutting his hairstyle out of the frame.
Understandably Juan's gorgeous guide dog Wilma stole the show at the actual campaign photo shoot. "She's a natural," said Juan, proudly. "She's very photogenic."
"I have kept it a bit of a secret from family and friends, both here at RNC and at home," he confessed prior to the launch of his part of the campaign. "It will be nice for them to see the video when it pops up on YouTube and the website. I am very happy to be a part of 'I Can'. It's been a really good experience, absolutely grand!"
To see why Juan can go to university, read his profile and watch his film please visit .