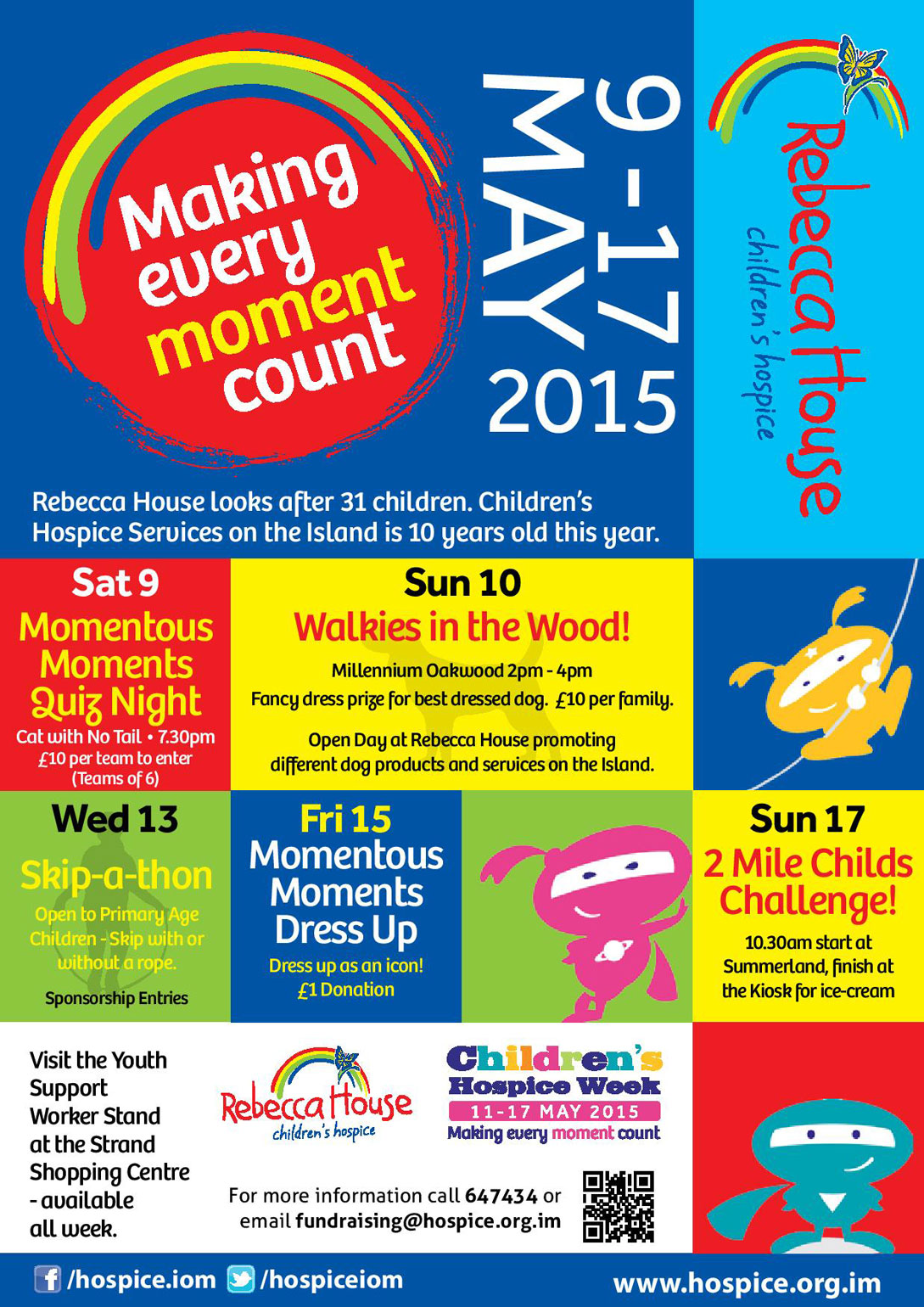 Along with other children's hospices nationally, Hospice Isle of Man will be looking to 'make every moment count'.

Rebecca House currently looks after 31 children and their families which costs just over half a million pounds each year. Children's Hospice week is designed to encourage people to think about the work children's hospices do and help raise money to support them.

The week of events will start with a Momentous Moments quiz at the Cat with No Tail on Saturday 9th May. Sponsored by DMS Autocentre entry is £10 for a team of six with the event starting at 7.30pm, space is limited so please contact the fundraising team on 647434 to book your place!

Sunday 10th May will see their first dog walking event - Walkies in the Wood. Starting at 2pm at the Millennium Oakwood, you're invited to walk your dog as well as complete s scavenger hunt! They will also be having a dog fancy dress competition so make sure your pooch is picture perfect! Following the walk, everyone is invited to go back to Rebecca House for an open day. Tours of Rebecca House will be available and there will be a selection of stalls with local dog products and services on display. Entry is £10 per family including tea, coffee, water and dog biscuits as well as a surprise gift for all the dogs.

From Monday 11th to Friday 15th there will be a stand in the Strand Shopping Centre displaying the work of both Rebecca House and their dedicated Young Person Support worker. Information stands will give details on who the Youth Support Worker helps and how to get in touch.

On Wednesday 13th May participants will be invited to take part in a Skip-a-thon. Everyone is welcome to take part and be sponsored to skip.

Friday 15th May will see the return of the dress up day - this year theme being momentous moments. Dress up as your favourite iconic person such as a historical figure, music or sporting icon or even characters from film, book or TV or anything that represents a momentous moment in time and donate £1. The Hospice are looking for companies to get behind this fun idea and raise funds!

Sunday 17th May will see thei final event which is the 2 mile child's challenge expanding on their previous midday walk with an unchanged entry fee of £5. This year they are inviting children to take part and walk, run, skip, skate, skoot, bounce or be pushed along the prom from Summerland to the park.

For further details or to register for any of the events please visit their website.