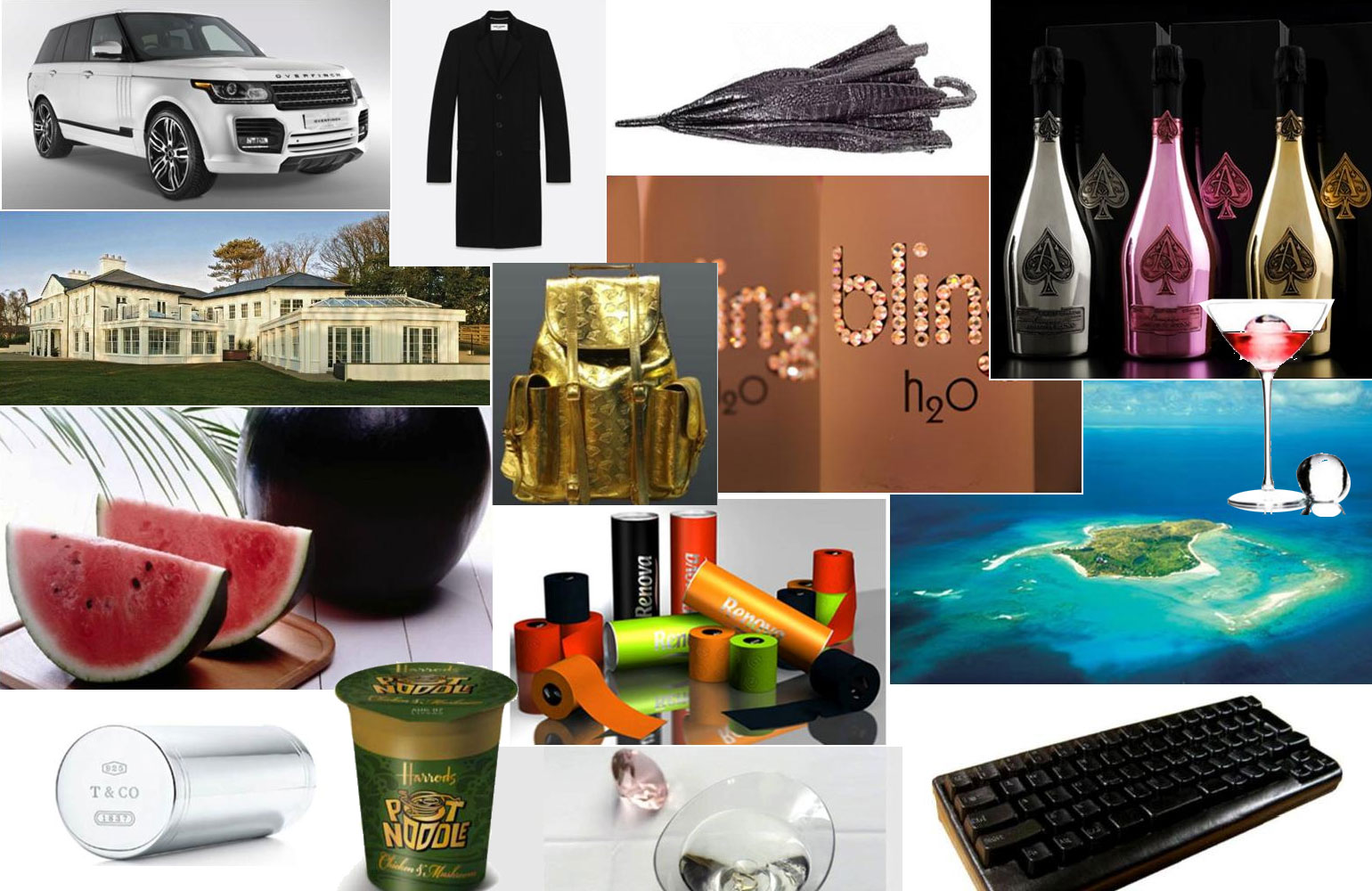 Whether you're judged on your choice of chocolate bar or your annual 'vacay' destination, throughout life it's always nice to treat yourself to that something special.
Range Rover Sport, fantastic piece of machinery, but what if you want something a little bit more 'out there'?
The answer, Overfinch. Overfinch, founded in 1975 under the name Schuler, is a British company which specialises in enhancing Range Rovers and is based in Leeds, England. With modifications made to both appearance and mechanicals, Overfinch's cars are often noticeably different from standard Range Rovers and Range Rover Sports, and have recently become popular with celebrities.
Local property, Modena House, is a snip at just 4.7 million. Relax in the seven bedrooms, orangery, swimming pool, gym, sauna or outdoor jacuzzi area. Or for those moments when work calls potter to the office-complex above the quadruple garage.
Yves Saint Laurent are prestigious designers in the fashion industry, this coat costs a mere £1600!
Where's the fun in being incredibly rich unless you're also incredibly flashy?
The gold rucksack, by the Billionaire Boys Club, features their trademark diamond dollar pattern, making an excessively expensive item even more over the top. With only 4 of these available at £999 it's anyone's guess at how long before they sell out.
Maybe crocodile skin would make sense as an efficient water repellent if it wasn't so damn expensive. At $50,000 this umbrella should come with someone to follow you around holding it over your head… seriously that beats a blogger's salary. Hey rich guys, if you're reading this, skip the crocodile skin and hire me to hold a regular umbrella over your head. That'll definitely get you more attention at eccentric rich guy parties. Seriously, if you're interested…
AT $55 per bottle, Bling Water, might seem a tad overpriced but hey, it's pretty!
Or if you prefer marvelously complex and full-bodied, with a bouquet that is both fresh and lively, with light floral notes then look no further than Armand de Brignac's Champagne Ace of Spades at just £350 a bottle and available locally at BarGeorge.
Or for the romantic, what about a Martini on the Rock at just £7,500?
No, the appletini isn't the girliest martini money can buy… it's the diamond-tini. Served at the Blue Bar in the Algonqiun Hotel in NYC on a silver platter, the Martini on the Rock is made with four parts gin, one part vermouth and one part diamond engagement ring. Ice cubes are for squares. VIPs know that the really good ice comes in hand carved spheres of ice made from Canadian purified water. On the bright side ice balls supposedly don't dilute your equally expensive drink and cool it evenly. Glace ball of ice just £26 each.
Black watermelons are rare items, especially the Densuke variety that is only grown in the island of Hokkaido in Japan. A harvest will typically yield only a few dozen fruits. What makes it special, aside from its rarity? Its hardness and crispness are just perfect, plus, the level of sweetness is just incomparable. A fruit that weighed 17 pounds once went for $6,100.
Even instant noodles come in luxury form. For $43 a cup, you can have one of 100 exclusive Pot Noodle cups. Each posh noodle comes in a hand-flocked gold leaf pot and because you like to be civilized while you eat your instant noodles, it also comes with a fork and table linen. One good thing about the exorbitant price tag: the proceeds go to charity so you can help the less fortunate while you indulge.
Necker Island - $47,000 per night
Necker Island is a 74-acre island in the British Virgin Islands just north of Virgin Gorda. The island is owned by Sir Richard Branson, famous for his Virgin brand, and is part of the Virgin Limited Edition portfolio of luxury properties.
There is a dedicated team of fabulous staff on island plus more than 200 flamingos who are all part of the Necker family!
When you tire of using wads of dollar bills you can spend that cash on some colored toilet paper. While it's probably just as much of a waste of money, at least Renova colored toilet paper is much softer than cash. A 3 pack sets you back $20 but if you're obsessive enough to color coordinate EVERYTHING in your bathroom than you won't mind the expense.
If you're really rich, you know that displaying your wealth goes beyond flashy clothes and a luxury car… a true measure of wealth is all in the details. You can't possibly expect anyone to fully understand just how filthy rich you really are unless even your staples are gold plated. It may not get any more excessive than gold staples packaged in a velvet jewellery box sitting on top of your desk. Goldplated staples - £140.
Be honest, the only reason you even play tennis is to network with the other rich guys at your country club. Since you're playing to impress, why not get a fancy can to keep your balls in? Of course because it's Tiffany, this particular tennis ball can is made of sterling silver and will set you back £1200.
Plastic? Pu-lease. When you have the perfect manly study, complete with rich leather chairs, a full liquor cabinet, a fireplace and let's throw in a 50 inch plasma TV for good measure… would you have a cheap plastic keyboard on top of your solid mahogany desk? Absolutely not. You would have a soft leather keyboard with monogrammed keys to compliment your lavish surroundings. Considering your tastes, £400 for Gokukawa Leather Keyboard will barely make a dent in your budget.