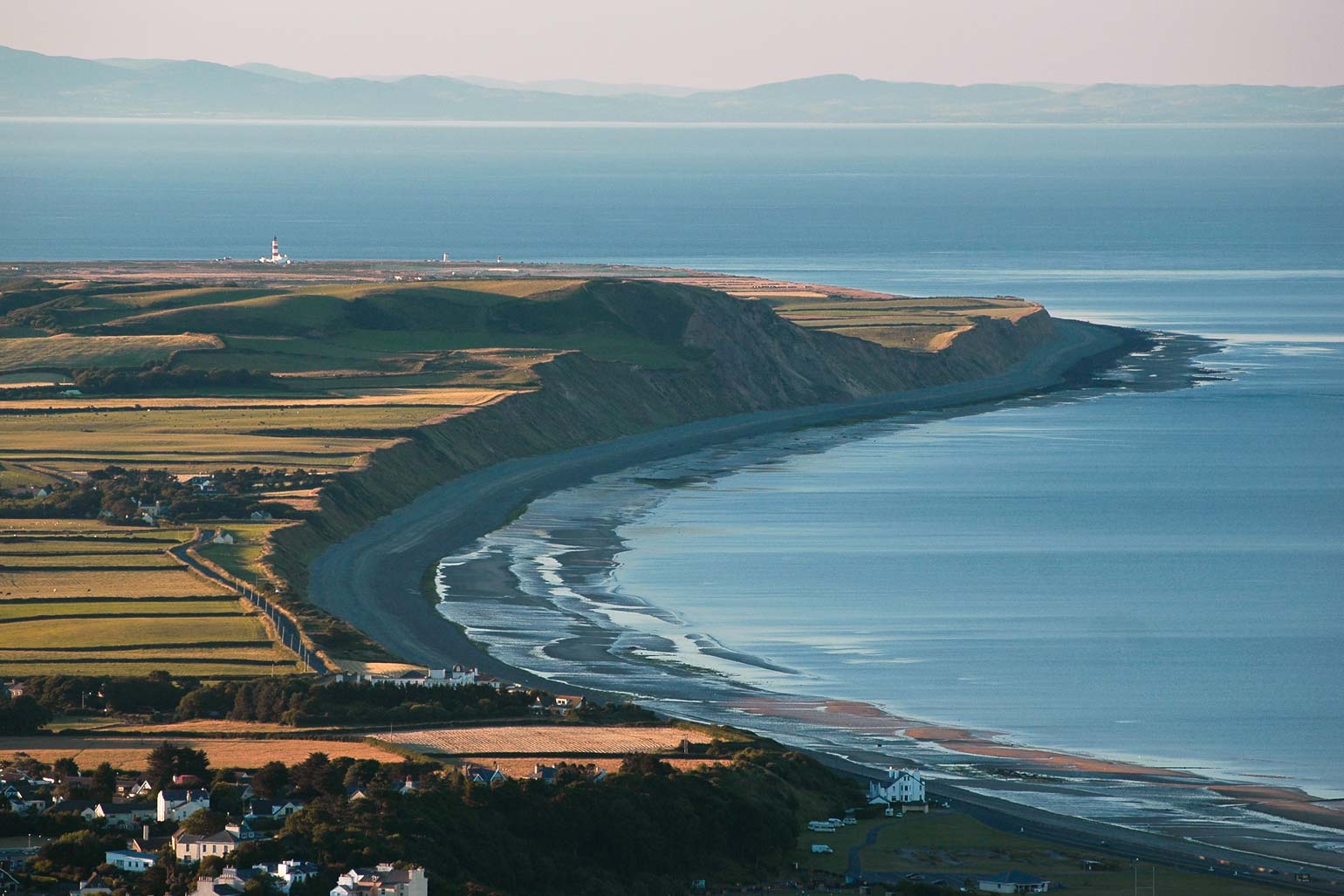 The coastline of the Isle of Man claims some of the most stunning and memorable scenery in the British Isles. Shaped by the restless force of the Irish Sea, it is both timeless and constantly changing.
From the sheer, rough-hewn cliffs of the south to the long golden strands of the north-west, it embraces endless contrasts within its modest parameters. Teeming with seabirds and marine life, it's also steeped in human history: it's a landscape which tells the fascinating story of an island people and their relationship with the sea. Let the story unfold as you discover the Manx coast at your own pace. It is as inspirational for painters and birdwatchers as it is for surfers and mountain bikers, so, whatever your interests, the coast will have something for you.
Best Foot Forward
The Island's coast is a paradise for walkers. A long-distance footpath called the Raad ny Foillan ('Way of the Gull') closely hugs the coastline and covers roughly 95 miles in total. Any section makes for a great walk while tackling the whole route makes for an epic one! Should you choose to do this, it is recommended to allow 5 or 6 days and plan your overnight stops in advance. For the most part, the Raad ny Foillan is never too far from places to eat and stay.
The Island's profile as a destination for walking holidays has increased in the last few years, partly due to the popular annual walking festivals organised by the Isle of Man Government's Department of Community, Culture and Leisure. In Spring 2008, the readers of influential Walk magazine voted the Isle of Man as one of Britain's top walking destinations.
If you like to live closer to the edge, there are also many places where you can go rock climbing and abseiling.
A Way to the Past
Tiny symbols on a map unfold into fascinating histories once you start exploring the Manx coast. Castles and fortresses; disused mines leading deep under the sea; remote lighthouses; scenes of shipwrecks, ancient places of burial and worship; and poignant remnants of the Victorian golden days of holidaymaking…a tour of the coast reveals all these things and more in layers of history. From the coast, the Manx people have made a living, repelled invaders and attracted visitors: centuries of toil, struggle and enterprise have all left their mark, making the Island a particularly rich place for anyone interested in social, archaeological, maritime and military history - or just a ripping good yarn!
The Deep Blue Sea
Marine Life
The Island has always been extremely fortunate in having an abundance of marine mammals. In recent years, awareness of this has increased hugely, thanks to the work of marine conversation groups. It is now known that several species of whale and dolphin pass through Manx waters, from Harbour Porpoises to Risso's Dolphins and Minke Whales - even the odd Orca. Basking Sharks - the second largest fish in the world - also congregate during the summer months to mate and feed, and spotting them has become a popular local pastime. Seals are also resident in large numbers: Grey (or Atlantic) Seals are most populous, with Common Seals seen in smaller numbers. Diving, boat trips or sea kayaking all improve your chances of a close encounter with the wonderful life in Manx waters.
Diving
The Isle of Man is often named as one of the best dive sites in Europe by those in the diving community. Certainly, for anyone willing to brave the Irish Sea, the rewards are huge. As you might expect, the coast is littered with shipwrecks and strong tidal currents help to generate an abundance of marine life. Carpets of bright jewel Anemones, streaming shoals of Cuckoo Wrasse and perhaps a face-to-face encounter with a playful young seal: these are just some of the snapshots you will take home from a Manx dive. There are several dive clubs, training schools and equipment stores around the Island, and always knowledgeable people waiting to help you.
Watersports
Our local waters are a great playground for aquaholics! Take your pick from sailing, surfing, windsurfing, kayaking or coasteering. The rugged coastline and ever-changing weather create ideal conditions for adventure and there is no shortage of experienced, qualified instructors to take you on them.
Boat Trips
There are different kinds of trips available in the summer months, depending on your interests. Sea-fishing on the Island is excellent, and putting out to sea gives it another dimension. Perhaps it's really big fish you're hoping to spot; if so, a number of local boatmen offer Basking Shark watching excursions. There are also pleasure cruises in the summer months for those who just want to unwind on the open waves. It's also an excellent way to see the Island's seabirds in their element.