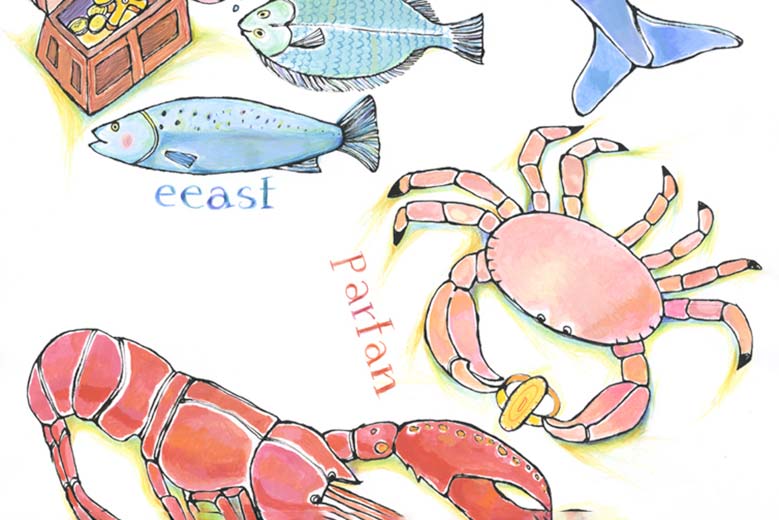 We caught up with Jo Davies, who has an exhibition of some of her work on at the moment at the Erin Arts Centre.
Tell us more about your exhibition "Cool Mann". What can people expect to see if they pop by?
Cool Mann is a exhibition of original paintings and drawings, mostly from commissioned children's books and projects that I've worked on for children's publishing. It also includes work from the project I've been working on with the Manx Language Development Unit, to produce an activity book for children to work with when learning Manx Gaelic. Some of these drawings have been printed two metres long and are hanging from the ceiling and skylights of the gallery. Although we see illustration every day we rarely think about what the original drawing looks like and I am keen to show through the exhibition, what happens to drawings when they are transformed into illustrations. It's unusual to see this in art galleries.
Cool Mann has been supported by the Isle of Man Arts Council and Culture Vannin and as part of this project I am running illustration workshops in the gallery. Children between 7-11 can come along to work with me, in the gallery, on 24th January and tickets for this are available from Erin Arts Centre, for £3.50 per child (to cover the hire of the space during this time.)
And your journey to becoming an illustrator....
Illustration for me has been based on a love of drawing. I went to art school in Maidstone and then worked mostly for clients in London in advertising, for books and magazine and design. It was more than a decade later when I went back to university to do an MA that I started to also do work for children's picture books. I also found that I enjoyed teaching and have been able to combine illustration and writing with working in art schools and universities. I am lucky to have been recently employed by the Isle Of Man College to be involved with the development of their exciting new Degrees in Art and Design.
You have co-authored a number of books on illustrating? Is this something you enjoy working on.
I have been researching into Illustration as part of my work as an Associate Professor at Plymouth University and have worked closely with the Association of Illustrators (AOI) in the development of an award winning illustration magazine Varoom. Together with Derek Brazell, manager of the AOI, within the past 5 years I have written Making Great Illustration, Becoming a Successful Illustrator and Understanding Illustration all published by Bloomsbury in the UK, USA and Australia. Researching into the world of illustration has been a great experience. Although I may do another book in the future my decision to move to the Isle of Man in 2013 was because I have decided to focus on creating my own illustration work.
What would be a dream commission to be approached to do?
The challenge of working to commission is a thrill, whatever the job. I enjoy working with stories and texts but also working on commissions that allow me to draw people and places. (Maybe the Manx Tourist Board will get in touch!) It's still a thrill for me after all these years to illustrate stories and books. The ultimate dream job would be to draw my way around the world but with family and dogs and chickens in tow that is a far-flung fantasy!
What are you future plans?
I have written two longer children's books and finding a publisher for them will be one of my goals for the new year. As a relative newcomer to the island I'm keen to make myself known here as an author and illustrator and work for local clients.

The "Cool Mann" exhibition is on display 3rd December - 1st February at the Erin Arts Centre, Victoria Square, Port Erin. The Gallery is Free Entry, Opening hours are Wednesday - Friday, 10.30am - 4.30pm and during events.