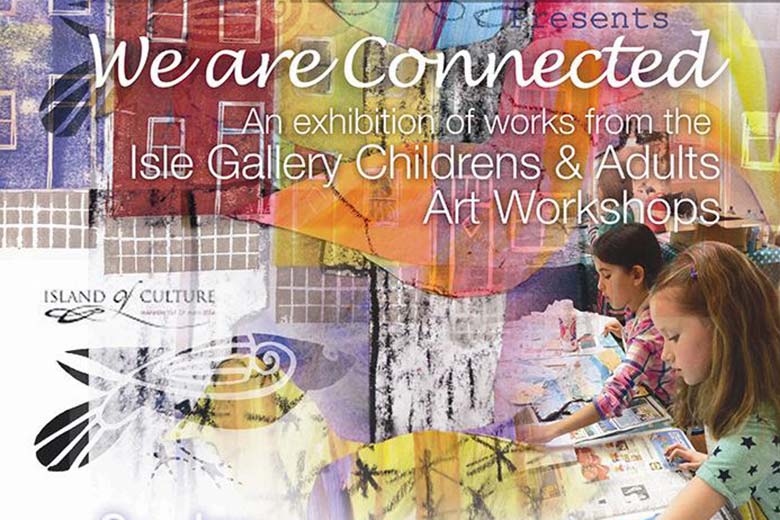 The Isle Gallery, formerly know as 'The Courtyard Gallery' has been open to the public since the end of 2011, when it began as a 'pop up gallery'.

Artist-led, the Gallery promotes art in the community and the benefits of art and creativity, not just to professional artists, but to everyone.

"We are Connected" is a new exhibition of art work, by children and adults, which opens to the public at the Isle Gallery, Tynwald Mills, St Johns next week, 6th January 2015 and runs to 1st February 2015.

There will also be a special 'meet the students' with special guests, the adults and children participating in the show, on Sunday 11th January between 2.30 and 5pm.
The exhibition is a celebration of the art work created during workshops, developed by practising artists Kate Jerry, Anna Clucas and Colette Gambell, held at the Gallery during 2014.

With funding for materials from the Isle of Man Arts Council, prior to and during the 'Island of Culture 2014' festival, the artists have been able to offer a wide range of techniques and mediums. Techniques include, painting, printmaking, and 3D sculpture in clay and and other materials.

Artist and tutor, Kate Jerry said:
"Many adults that have participated have noted the therapeutic effects of attending the art workshops.

"The gallery offers a space in a relaxed environment which encourages creative experimentation, whilst developing and learning new skills, techniques and processes.

"Children are naturally creative and free of inhibitions and self judgement...and we wish to fill the gap, where schools are unable to offer enough visual creative time for children. The children's art workshops offer structured workshops which teach all mediums and techniques during fun sessions for age groups from 5 -15. The Gallery offers both holiday and regular Saturday, term time art workshops."
The Gallery's funding from the Isle of Man Arts Council has now come to an end and they are actively looking for the sponsorship of materials for the children's art workshops to keep them affordable.

Greeting cards featuring work from the children's group project will be on sale in the Gallery during the exhibition, with all profits going towards the purchase of materials and equipment for the Children's art workshops.