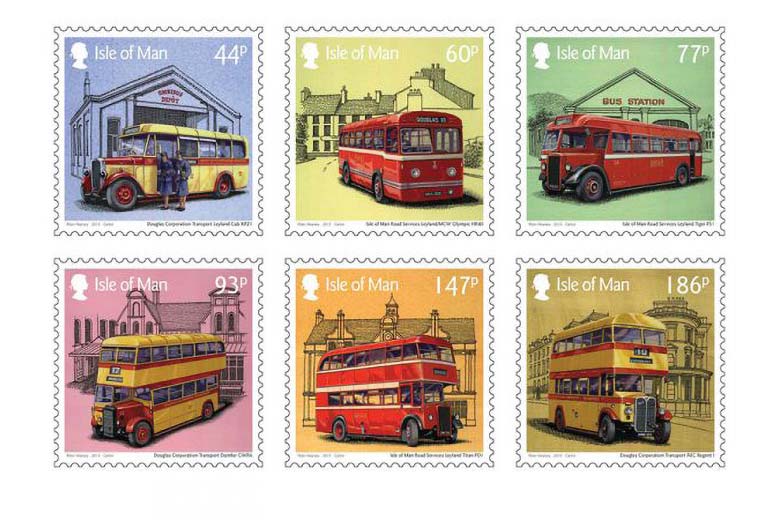 Entitled All Aboard Please! Manx Buses Part Two, this particular presentation has been issued in addition to a previous release in 1999, and features a selection of nostalgic images highlighting vehicles used by both Douglas Corporation and Road Services fleets, which later amalgamated under the banner of Isle of Man National Transport during 1976.
These wonderfully evocative pictures depict vehicles used on the Island during the 1930s and 1940s and have been especially commissioned by local artist Peter Hearsey to mark the fortieth anniversary of Isle of Man Transport.
A renowned automotive history artist, Peter Hearsey studied at Kingston Upon Hull College of Art 1960 - 1964, but after working in London for many years within the spheres of advertising, visualisation and illustration, moved to the Isle of Man in 1977. He has used a modern style for this work, with each vehicle highlighted in a creative SPOT UV varnish to create a luminous finish.
Local author and transport historian, Richard Davis, who provided the accompanying text, commented, "I am delighted to see the results of our work on this project. Peter has produced a series of fantastic images which perfectly capture Manx buses of the 1930s and 1940s, and Isle of Man Post Office can be very proud of their latest stamp issue."
Some of the stamps feature the fondly remembered Douglas Corporation Transport yellow buses posing at the capital's railway station, on Prospect Hill in Douglas and at the now demolished Omnibus Depot.
In addition, the distinctive red Isle of Man Road Services vehicles are shown leaving Ballasalla, together with two illustrations in Ramsey, at the bus station and outside the Town Hall.
General Manager of Isle of Man Stamps and Coins, Maxine Cannon, said, "We are delighted to present this fantastic set of stamps, which strikingly capture the Island's rich transport heritage, using illustrations by local artist Peter Hearsey and text from well-known local author and transport historian Richard Davis. This issue, which ties in with the forthcoming Isle of Man Transport's fortieth anniversary in 2016, would make the perfect addition to any bus enthusiast, or stamp collector."