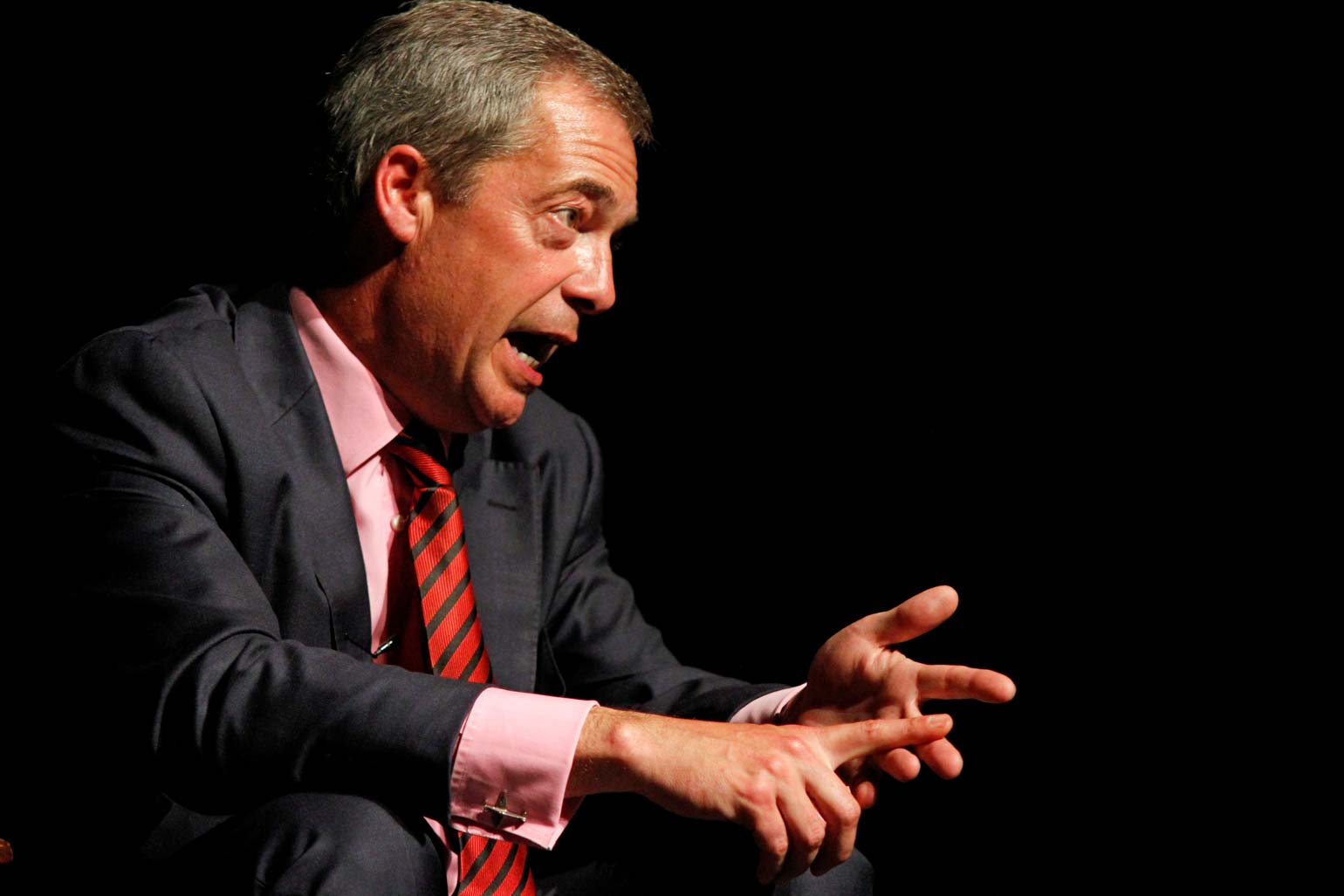 The event is sponsored by Specsavers Isle of Man.
After two decades on the fringes, Farage's UKIP party has been thrust centre stage sending its leader beaming into the spotlight. UKIP gave the Tories and Lib Dems a rattling in the recent local elections, where they recorded their best ever result in the party's history.
But who is Nigel Farage, the man behind the Home Counties blazer? He was born in Kent, where he still lives. In 1982 he decided not to go to university, but elected to go to the City to work as a commodities trader. Having flirted with the Conservative Party, in 1993 he co-founded a new Eurosceptic party - The United Kingdom Independence Party (UKIP), who had one principle goal - to get Britain out of the EU.
Farage was elected as an MEP in 1999, and the European Parliament has been his main stomping ground ever since. He claims that up to 50% of the European peoples do not want a centralised European state and positions his party as the opposition in Brussels.

Farage's outspoken speeches in Brussels against what he perceives as "euro-nonsense" are legendary, both for their wit and passion. They are also known for being epically rude - as the then new President of the European Council Herman van Rompuy found out two years ago, when Farage accused him of "having the appearance of a low grade bank clerk."

In the 2010 General Election Nigel Farage raised eyebrows yet again when he contested John Bercow's seat in Buckingham. It was a subversive thing to do as the Speaker of the House is neutral and not usually challenged.

But on the morning of the election, Farage was involved in an air crash caused by the UKIP election banner the plane was towing getting caught in the plane's tail fin. Farage emerged from the accident remarkably quickly.

But for all his characteristics - national provocateur, unorthodox, outspoken and humorous - his much-promised political earthquake across British politics was delivered on 22 May. UKIP stormed to victory in the European elections, performing powerfully across the country, marking the first time in modern history that neither Labour nor the Conservatives have won a British national election.
Farage claimed voters had "delivered about the most extraordinary result that has been seen in British politics for 100 years and I am proud to have led them to that." The UKIP leader predicted that as a consequence: "We may well see one party leader forced out of his position and another to reconsider his policy of opposition to a referendum on Europe, and David Cameron will have to take a much tougher negotiating stance. It is now not beyond the bounds of possibility that we hold the balance of power in another hung parliament."
"An Evening with Nigel Farage" at the Gaiety is a chance to hear Nigel Farage explain why he believes UKIP can offer Britain a better future and his views on why the party did so well in the recent County Council elections, averaging 25% of the vote in the wards it contested.
Adrian Higgins, Islands Director of Specsavers said: 'Specsavers are delighted to be supporting this 'Sporting & Dining Club' event. Nigel Farage is an accomplished and renowned speaker. Love him or loathe him, he is part of the political zeitgeist. It will be a fantastic event and I am very much looking forward to more in 2015.'
Organiser, John Wannenburgh said: 'I would like to take this opportunity to thank Specsavers for its support of this event with Nigel Farage. Whether you subscribe to Prime Minister David Cameron's 2006 claim that Mr Farage's UKIP party is full of "fruitcakes, loonies and closet racists", or regard him as the only man who offers a feasible alternative to the doldrums of current mainstream politics, he's a fascinating phenomenon, and I am delighted that to present him to the Isle of Man public in November".
Tickets are available from the Gaiety Theatre box office (Tel 01624 600555) from Friday 20th June 2014. Tickets are £17.50 per person, including the Villa Marina booking fee.