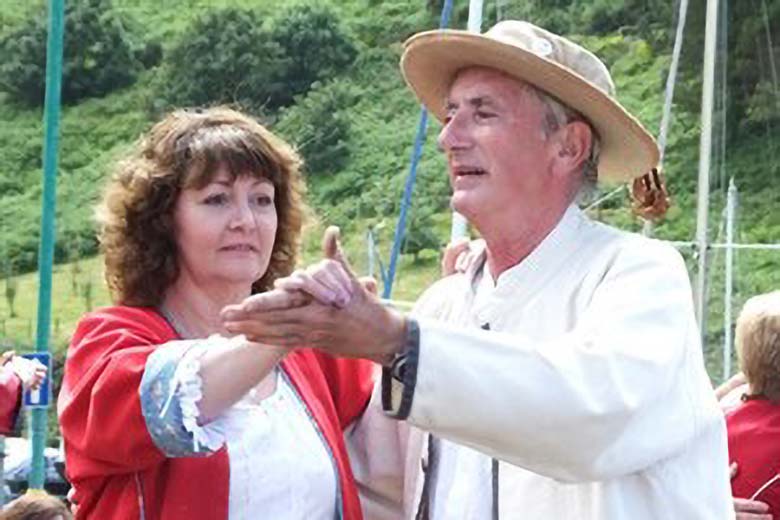 With stunning, panoramic views of the coastline and a rich cultural heritage, the seaside resort of Newquay will be the new venue for Cornwall's annual Celtic festival, Lowender Peran, which attracts a number of visitors and performers from the Isle of Man.
The festival is a registered charity, set up to encourage recognition of both Cornwall's heritage and its Celtic links, but also for people in the locality to recognise and value their own roots and identity.
There's been a steadily growing recognition of Cornwall's Celtic dimension since the end of the nineteenth century, initially from a linguistic point of view, but later strengthened by the peninsula's acceptance into the Celtic Congress and the establishment of the Cornish Gorsedh. An annual Celtic festival had been held in St Ives during the 1950s, but it was not until the late 1970s that Lowender Peran became established.
Those visiting from the Isle of Man include local girl, Cinzia Yates, who has recently secured the role of full-time research associate for an innovative project entitled Digital Folk. It's a two-year AHRC-funded research project which examines the ways in which participants in folk art use digital resources. The project is led by Dr Simon Keegan-Phipps at the University of Sheffield, in collaboration with the University of Westminster and the English Folk Dance and Song Society.
Cinzia graduated last year with a PHD in Ethnomusicology from Cardiff University, with a dissertation entitled Excavating Notes: The Archaeology of Cannon Formation in Manx Music. She was formerly Manx Music Resource Co-ordinator for the Manx Heritage Foundation (now renamed Culture Vannin) and was instrumental in developing the Manx Music Database.
Meanwhile, southern based dance group Perree Bane will be heading for Cornwall to perform an eclectic mix of both traditional and contemporary Manx dances, which are always well received at the festival. With more than thirty years experience under their belt, these colourfully costumed dancers are keen to keep alive an extensive repertoire, which compliments those performed by their Celtic cousins.
In addition, local musician Adam Rhodes (Mec Lir) will also be performing with Welsh super group Jamie Smith's Mabon, playing bouzouki and guitar.
Lowender Peran is a family friendly festival, with a variety of entertainment and thought provoking get-togethers in their annual programme, including a silent ceili and disco, street dancing and a wrestling demonstration!
The packed schedule also has a number of events linked to the Isle of Man, including a popular Manx Night, a dance workshop involving examples of Manx dances and Cornish dances from the Poldark era, and a combined talk about Allantide and Hop tu Naa, which are closely linked by both date and historical celebration.
http://www.lowenderperan.co.uk/

(Courtesy of Manx Tails)