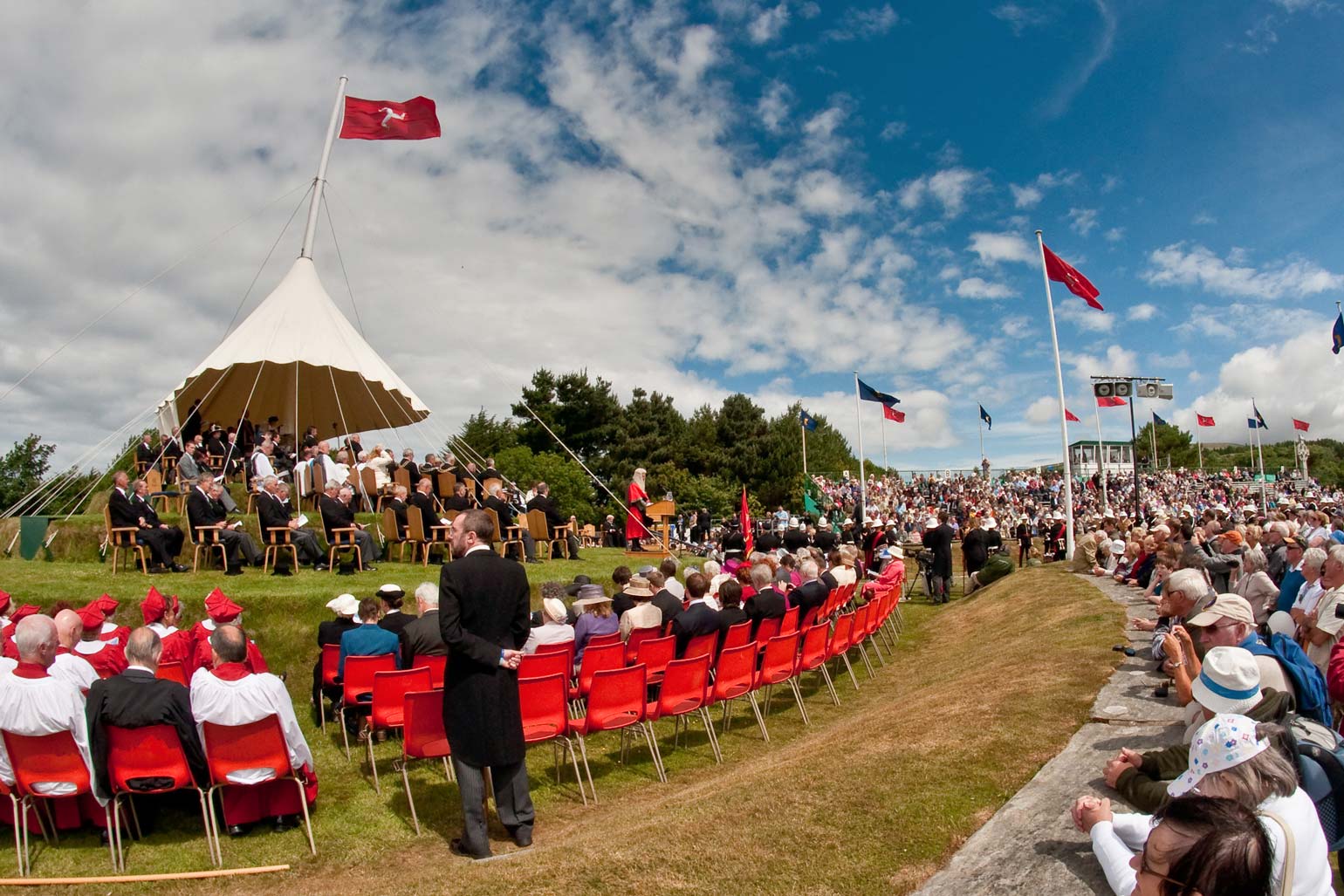 Dating back to Viking times, the Tynwald preserves the Old Norse custom of publicly announcing all new law, in both Manx and English. This takes place on the 5th of July or, if that is a Sunday or a Saturday, on the following Monday.
The promulgation of new laws in Manx and English is necessary before they can be enforced. In the distant past the Tyn (from the Old Norse 'Thing' meaning public assembly) was also the place to settle disputes, so it was both parliament and court. One reason to hold it on this day was that all evil influences had been driven out the previous evening.
Location
Tynwald Hill is between Douglas and Peel, but in former times there were assemblies for the North and South regions of the Island. Tynwald Hill for the South was at Keeil Abban (now St Lukes Chapel), and that for the North was at Reneurling (now Cronk Urley or Urleigh).
Proceedings
The Tynwald is the last of a four-stage process of law creation. First, the laws are decided by the legislature in Douglas, formerly at Castle Rushen, Castletown. This body is called the Keys (from Old Norse 'kuid' meaning jury) and its members are chosen by popular vote. Second, the laws go to the Council for further scrutiny, and, third, to the monarch for ratification. Only then are they promulgated next Midsummer Day. Once the Deemsters have promulgated the laws during the ceremony, individuals may present petitions for the redress of grievances. Petitions are presented to the Clerk of Tynwald, who in turn conveys them to the Lieutenant Governor. The petitions are then referred to a committee of Tynwald.
Tynwald Far
On the green at St John's the Tynwald Far, following the Norwegian custom of holding a fair when their Parliament (Thing) was in session, has stalls, bands, dancers and other entertainments. A speciality sold is home-made Tynwald Fudge.
---