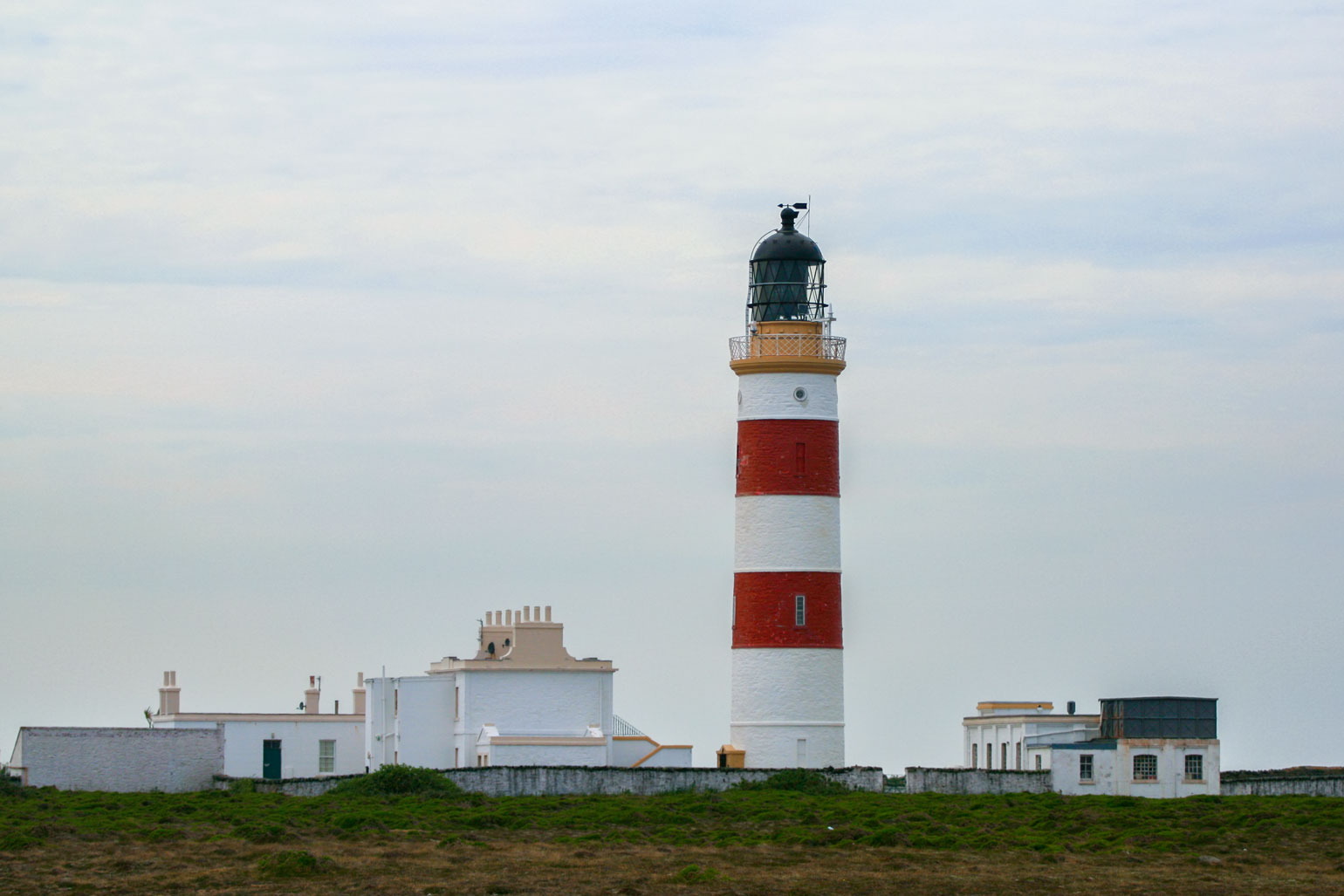 Lighthouses on the Isle of Man are under the jurisdiction of The Northern Lighthouse Board.
Harbour lights are considered separately.
A scheme to place a lighthouse on the Calf of Man was considered as early as 1658, prompted by concern by Liverpool merchants, but opposed by Trinity House on the grounds that the dues would be burdensome.
In 1692 " severall persons trading from Whitehaven and other places " ...being " desirous for the better security of themselves, their shipps and goods that one or more Lighhouses bee builded" [quoted by Moore from Lib. Sacc] applied to the Earl of Derby for permission to build such lights. The Earl of Derby appointed commissioners for this task but nothing seems to have been done.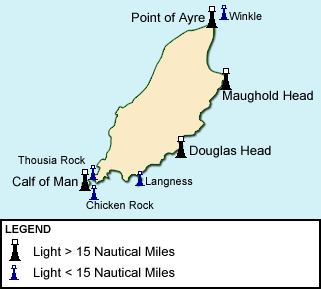 A survey of the Calf of 1771 shows a light though no trace exists beyond a pile of stones. It was suggested [see Ind Arch p34] that Bushel's House may in fact be the ruin of a late medieval beacon tower.
Alexander Cook in his letter to the 1792 Commission of Enquiry suggests the Calf, Langness, Douglas Head and Point of Ayre as suitable locations.
The Calf scheme was again raised in 1794 with the idea of building two leading lights on the Calf to act as a guide to avoid Chicken Rock. Robert Stevenson visited the site in 1801 and pointed out that no parliamentary provision existed to support Manx lights. The Northern Commissioners (who dealt with the Scottish coast) wished to erect a light but Trinity House claimed that they had the sole right (within English though not within Manx waters). Although this point was initially conceded it was when the commissioners stated that no dues should be payable for ships making towards Scottish ports that Trinity House gave way with the result that Island lights are handled by the Northern Commissioners rather than Trinity House. [see Roberson 1971 J.MM]
A summary of the legislation regarding Lighthouses is given by James Gell in his appendix to "An Abstract of the Laws ... by John Parr" Manx Soc vol XII 1867.
All lights on the Island are now automatic and unwatched. An 1897 list gives details of the lights etc.
Acknowledgement:
Isleofman.com would like to acknowledge with thanks The Northern Lighthouse Board for their cooperation in permitting us to utilise content from their online publications.
The copyright in the information used belongs to The Commissioners of Northern Lighthouses operating as the Northern Lighthouse Board.
The Commissioners of Northern Lighthouses® are the General Lighthouse Authority for Scotland and the Isle of Man and operate as the "Northern Lighthouse Board"® (NLB)®.
For more information visit www.nlb.org.uk