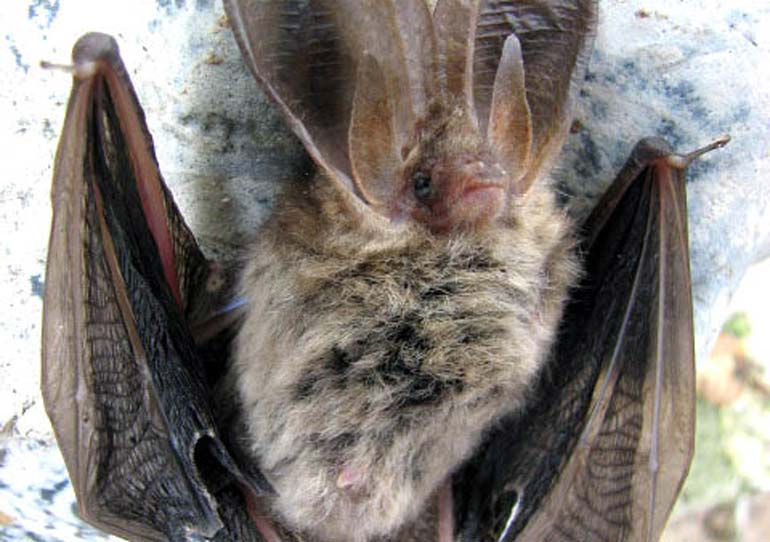 Formed as a Manx Charity (No. 443) in 1990, The Manx Bat Group is affiliated with the UK's Bat Conservation Trust. If you find an injured or grounded bat their Helpline can be contacted on 07624 366177.
It is illegal to handle a bat if you do not have a Bat Handling Licence. If a bat is found in the wrong place, you must call the Manx Bat Group or the Department of Environment, Food and Agriculture's Forestry, Amenity and Lands Directorate.
Facts about bats
They hibernate in the winter.
In spring, the female bats create nurseries, usually in people's roofs.
Autumn is the mating season.
Bats can live for up to 15 - 20 years.
Bat Species on the Island
Brown long-eared bat
A woodland bat that also roosts in large roof spaces and forages in woodland, gardens and orchards. The brown long-eared bat unusually sometimes hibernates in summer roosts, as well as through the winter months. Its ears are about 28mm long and are so finely tuned they can navigate them to food including the tiniest of insects. They enjoy feeding on yellow underwing moths. The wings of these moths are often found on the floor below a roost.
Wingspan: 28cm
Body Length: 45mm
Daubenton's bat
Associated with water sites, often roosting in trees. Also known as the water bat, Daubenton's bat flies low over water feeding on insects. Its large feet distinguish it from other bats, such as the whiskered bat.
Wingspan: 25cm
Body Length: 45mm
Leisler's bat
Also common in Ireland, this high flying bat roosts in buildings as well as being a tree dweller.
Wingspan: 30cm
Body Length: 64mm
Natterer's bat
A parkland and woodland species, often roosting in tree hollows, old timbers of barns, old house roofs and churches. Natterer's bat is distinguished by its white belly.
Wingspan: 28cm
Body Length: 45mm
Pipistrelle (Common and Soprano)
There are three species (two relatively common) of Britain's smallest bat, the pipistrelle. They roost commonly in modern houses, but are found roosting and foraging everywhere. Also our commonest bat species, pipistrelles live in large colonies of 1000 or more.
Wingspan: 22cm
Body Length: 35mm
Whiskered bat
Often found in woodland and around waterside, roosting in trees, bat boxes and buildings. These two species are remarkably alike. Whiskered bats do not live up to their name, only having more fur around their eyes and muzzle than other bats. A small bat, they are known in Europe to travel long distances as far as 1,200 miles, although they don't move long distances in this country.
Wingspan: 24cm
Body Length: 40mm
Bat Events
The Manx Bat Group has regular walks for members and the general public in the summer months. They also run a busy schedule of activities such as bat box making and surveys.
---