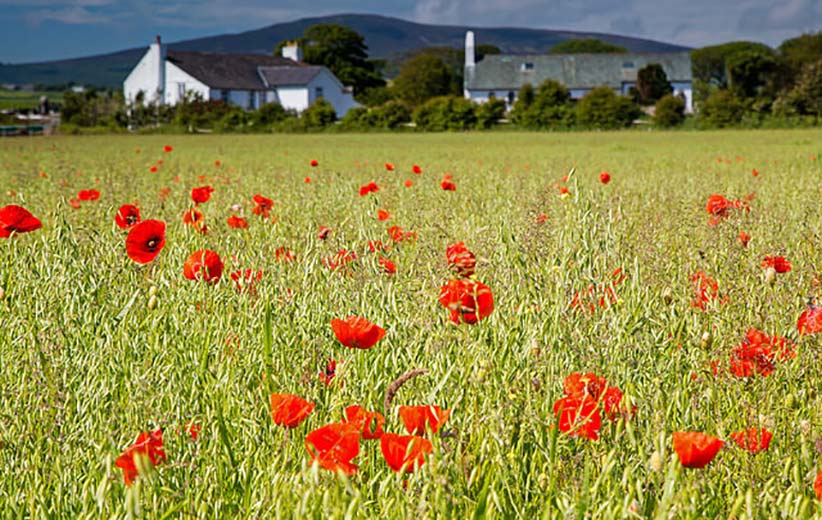 The Wildflowers of Mann project was set up in 2000 to help promote and conserve the indigenous flora of the Island. The project works out of the Wildlife Trust and is funded by the Department of Tourism and leisure, Department of Transport, Department of Agriculture, Fisheries and Forestry and Manx National Heritage, as well as income from the services it provides.
The Manx Indigenous Flora
Since the Island was created 7-9000 years ago the flora as subtly evolved and adapted in isolation to climate and site conditions. Unlike many parts of the British Isles, Man has managed to maintain many of its flower rich habitats, and has beautiful coastal and road verge flower displays. These are loved by visitors and residents alike.
Threats to the native flora
The past 60 years have seen the rise of many threats to the local flora, from modern forestry and farming to development for housing. A more recent threat has been the introduction of wildflower 'conservation' schemes that use wildflowers from other parts of the British Isles. These well intentioned introductions will lead to the dilution of the unique Manx resource.
The Work of the Wildflowers of Mann
The first task of the project has been to grow a stock of native wildflower seed and plants for future conservation projects. We now grow over 20 types of wild flower seed and many more plants available as small plugs or pot plants.
We also work with local communities, individuals and organisations to start creative conservation schemes in schools, gardens, roadsides, farms and public open spaces.
The final part of the project is to raise awareness of the wild flower resource on the island, through publicity and public participation in wildflower schemes.
How to get involved
The project is always looking to start new wildflower conservation schemes on the island, from the largest to the smallest area. If you have an idea let us know and we will see if we can help. Or grow your own Manx Wildflowers. A selection of Manx Wildflower seed is available from the Trust Wildlife Shop at Tynwald Mills. The project also grows a wide selection of plugs and plants.
See http://www.manxwt.org.uk/what-we-do/wildflowers-mann or call 01624 801985 for more information.
---