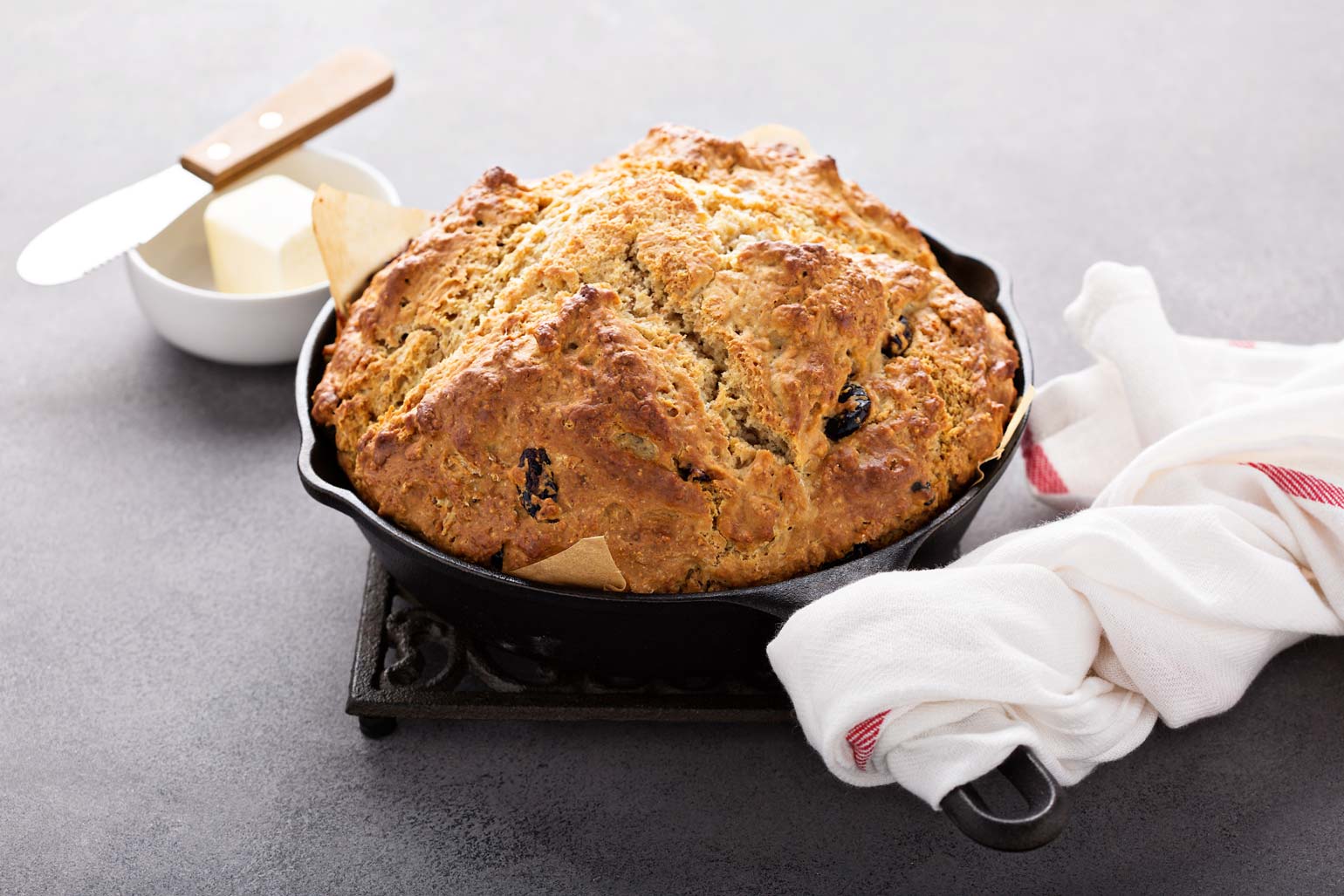 For all these recipes we are thankful to Suzanne Daugherty for extracting them from her collection.

Reposted from the Manx Notebook - www.isle-of-man.com
Measures or equivalents
1 tsp = 5g or 1/8 oz;
1 tbsp = 15g or ½oz
4oz = 100g = ½cup (flour)
'BASIC' BONNAG
Ingredients
1 lb flour
1 oz fat (or 2 oz)
pinch salt
1 tsp bicarbonate of soda
fruit and sugar if liked
1 tsp cream of tartar rubbed in with flour and fat
Method
Dissolve soda in sour milk
Then mix and bake in moderate oven.
---
'FRUIT' BONNAG
Ingredients
2 1/2 cups flour
1 cup sugar
1 cup currants
1 tbsp margarine
1 tsp bicarbonate of soda
1 large tsp mixed spice
few drops vanilla essence
cup or more buttermilk
Method
Rub butter into flour.
Add other dry ingredients.
When will mixed, mix with buttermilk.
Bake about 1 hour in moderate oven.
---
'COMMON' BONNAG
Ingredients
1 lb plain flour
4 oz margarine
1 tsp salt
1 tsp baking soda
1 tsp cream of tartar
4 oz sugar
4 oz currants
Method
Bake in moderate oven 3/4 hour
---
MRS. KERRUISH'S MANX BUNLOAF
A much richer cake-like recipe, note the addition of eggs which is not mentioned in any earlier recipe.
Ingredients
18 oz plain flour
2 oz margarine
2 oz lard
2 oz brown sugar
2 oz white sugar
2 eggs
18 oz currants
5 oz sultanas
2½ oz peel
½ level tsp Cream of Tartar
½ level tsp Carbonate of Soda
1 teaspoon spice
Buttermilk to mix
Method
No method given but judging from the ingredients rather like a rich fruit cake:
Beat fats and sugar, add eggs
sift flour spice and raising ingredients,
then add with fruit and cook in a slow oven (150C - probably around 2 hours but needs experimentation).
Alternatively, possibly rub fats into sifted flour/spice mix
then add eggs, fruit and buttermilk to produce the required dropping consistency
---
BUN LOAF or SPICE CAKE
Ingredients
1 lb Plain Flour
8 oz lard
8 oz brown sugar
8 oz currants
8 oz sultanas
4 oz mixed peel
8 oz raisins
1 teaspoon mixed spice
1 teaspoon bicarbonate of soda
2 cups of milk
2 tablespoons of black treacle
Method
Sieve dry ingredients
Rub fat into flour, add fruit, mix treacle with milk, mix to a soft consistency.
Turn into greased tin
Bake in moderate oven.
---
SPECIAL BUN LOAF
Ingredients
1 lb flour
4 oz margarine
2 lb mixed fruit
8 oz sugar
2 tablespoons syrup
2 teaspoons spice
candied peel or marmalade
1 dessert bicarbonate of soda
Method
Mix with sour milk or buttermilk (dissolve bicarbonate of soda in milk and add to dry ingredients)
Bake 2 hours in slow oven
---
These last two have a different method, and are good and moist. They were attributed to May Green, who used to demonstrate cookery, and s connected to Creer and Creer Ltd.,the Grocers of Buck's Road, Douglas.
BUNLOAF
Ingredients
4 oz margarine
4 cups fruit
4 cups SR flour
2 cups sugar
2 cups water
2 teaspoons bicarbonate of soda
2 teaspoons vinegar
Method
Put margarine, fruit, sugar and water in pan and boil for 3 minutes.
Once cold and add flour
Dissolve bicarbonate in the vinegar. Stir together.
Bake at 300 deg F for 10 minutes then reduce to 275 deg F for 50 minutes.
Variation
As above but add 2 tsp treacle and 2 tsp mixed spice in flour mixture.
---
BONNAG - THE SUNROSE WAY
Ingredients
12 oz Plain Flour
4 oz Sugar
4 oz Butter or Margarine
1 teaspoonful Bi-Carb. Of Soda
About 4 oz Dried Fruit
Sour Milk to mix to fairly soft dough (about a good teacupful)
Method
Rub fat into flour, add the sugar, then the fruit, add some of the milk in which the Bi-Carbonate of Soda has been mixed.
Then add the rest until required consistency is obtained.
Put in greased Baking tin and sprinkle sugar on top.
Bake in a moderate oven about 45 minutes.
---
RICH BONNAG
Here is a recipe for Manx Bunloaf, which incidentally came from the 1971 Kathie Webber's International Star Cook Book (TV Times Extra) 1971. It measures up to the hand-down recipes which I have.
Ingredients
8 oz plain flour
pinch of salt
pinch of mixed spice
pinch of nutmeg
3/4 level teaspoon of bicarbonate of soda
4 oz butter
4 oz soft brown sugar
1/2 lb sultanas
1/2 lb currants
1/4 lb stoned raisins
1 oz chopped mixed peel
1/2 level tablespoon black treacle
buttermilk or milk to mix
Method
Sift the flour, salt, mixed spice, nutmeg and bicarbonate of soda into a bowl.
Rub in the butter until mixture looks like fine bread crumbs.
Stir in the sugar, fruit and peel.
Add the treacle and mix to a fairly stiff dropping consistency with buttermilk or milk.
Turn mixture into a well greased 1 lb loaf tin
Bake for 2 1/2 hours in centre of oven, pre-heated to 325 deg.F or Mark 3.
Test with a skewer to see if cooked.
---