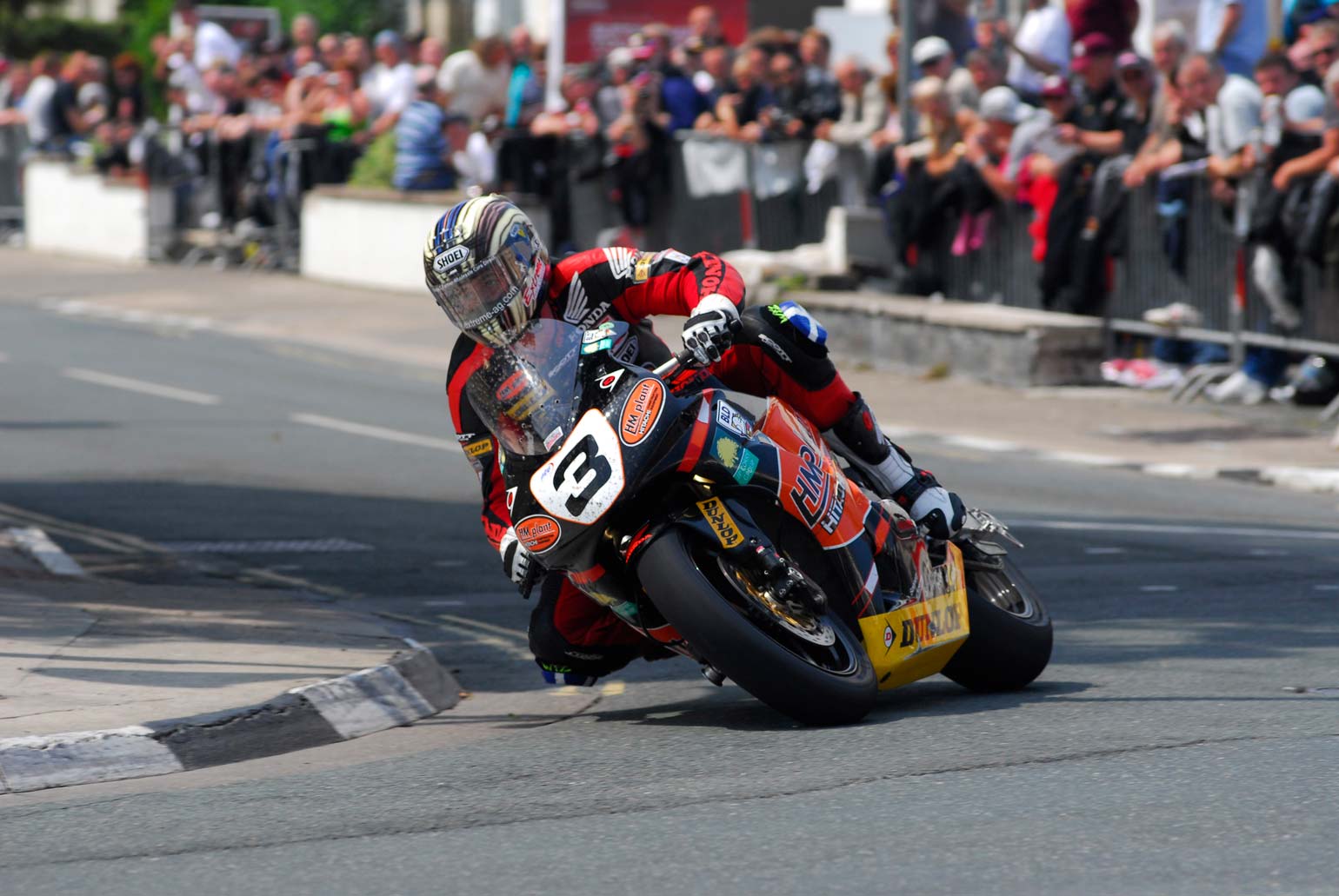 Watch the world's greatest road racers compete on the famous Mountain Course. The Isle of Man - the road racing capital of the world!
Each year, competitors from all over the world travel to the Isle of Man to take part in the festival of speed which is staged over a two week period.
The Course
The TT Races take place on the 37 3/4 mile Mountain Course, an event which is regarded as the ultimate challenge for rider and machine.
The races take place on public roads and have been run for over a hundred years. Riders compete against the clock in races of up to six laps in duration over the Mountain Course with the fastest competitors reaching speeds approaching 200mph on some parts of the circuit. It is a test of endurance for both man and bike and for the winner the prize is the magnificent Tourist Trophy.
How to Watch
For the spectator there are many vantage points to watch the races around the course. The TT Grandstand at the Start and Finish on Glencrutchery Road in Douglas provides race fans with an unrivalled view of the start line where they can watch the riders accelerate away before heading down Bray Hill at breathtaking speed. The Grandstand overlooks the race teams' pits allowing fans to watch as bikes are refuelled during the race while those who like to monitor the progress of their favourite riders can do so by checking their times on the scoreboard facing the Grandstand.
Of course the TT Grandstand is not the only place where spectators can view the races, there are many other locations around the course, some of the most well known include: Quarterbridge, Braddan Bridge, Union Mills and Ballacraine. Then following the course northwards through Kirk Michael, the famous bridge at Ballaugh, Sulby and on into Ramsey. From Ramsey the riders begin the climb up the mountain and there are opportunities to watch the action at places such as Ramsey Hairpin, the Gooseneck and Bungalow. On the descent, Creg-ny-Baa, Hillberry and Governors Bridge are popular amongst fans. Many of these locations feature race commentary to keep spectators up to date with the action around the course.
Accommodations
During the busy TT and IOM Festival of Motorcycling there is a Homestay scheme in place, operated by Regency Travel, which offers accommodation within local family homes on a bed and breakfast or self-catering basis. All properties listed on the Homestay scheme are checked for compliance to fire and safety standards. More information and a list of available accommodation can be found on their website.
Keep an eye on our Events Calendar for a full list of races and other fun activities for locals and visitors once the racing has stopped for the day.
---