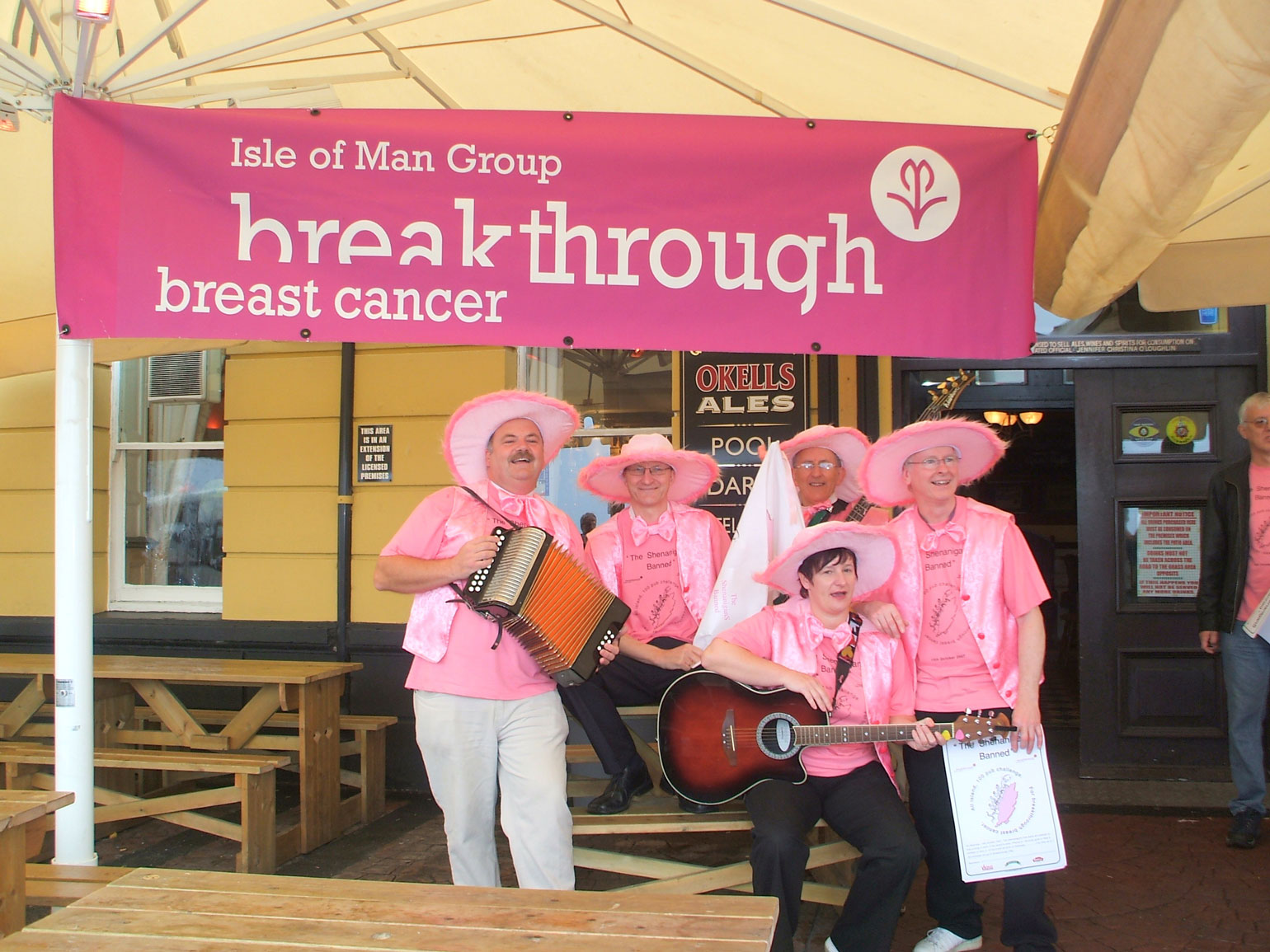 We caught up with band member Martyn Perkins.
Can you tell us how the band started and how you came up with the name?
The band was started at Laxey Sailing Club some 8 years ago.
Nothing had been organised for St Patrick's night so we got together and learnt some Irish songs.
When the person doing the publicity asked what we called ourselves and what sort of music we would be playing a band member said "Oh well we will just be up to our old Shenanigans."
A comment floated across from the other side of the room "They all should be banned, " hence the name became "The Shenanigans Banned"…..
Which seemed to sum us up. We played that evening to a surprised audience and the band became an item.
Previously I had lost my sister to breast cancer and decided with founder member, Pete Stanway, we should do something to raise cash for this very deserving cause.
We came up with the idea of playing a song in each of the islands pubs in 12 hours. At that time there were 98 pubs and two wine bars making a total of 100.
So we decided to call it the 100 pub challenge. It gave us 7 minutes to play a song and get to the next pub. Quite a logistics challenge considering the distance apart of some of the pubs, for example The Glen Maye Waterfall and the Jurby Hotel to name but two.
Many of the pubs have now closed so the challenge would be difficult to repeat.
We were supported by a lot of dedicated people who behind the scenes got things ready for us and made the whole event run smoothly. We completed the challenge with 8 minutes to spare and raised around £8,000.
Each band member takes the mickey out of the others so we have no prima donnas. Consequently the Band does not take itself too seriously and probably that is the reason why we have stuck together.
What could people expect to hear if they came along to a Shenanigan Banned gig?
Over the years the band has evolved and become known as jokey and folkey. We play a lot of well-known Irish folk and Stuart Slack songs, which seem as relevant today as when he wrote them back in the 70's.
You like to include local and topical references in your songs. Have you any new original material in the pipeline perhaps?
We also write our own songs generally incorporating what is happening on the Island at the time. The bus strike, Peel road & toilet tax have provided us with some good lyrics as has John Denver's Manx Edition of "Take me home bumpy roads". We also include a lot of well-known sing along type songs that the audience remember and join in.
Many of our gigs are private and are for people who do not want a disco or Karaoke but like a sing song. After getting some skeet from other members of the family, we often write songs for the couple for a wedding anniversary or the birthday person, A few well-chosen words and incidents create hilarity when sung as a song to the assembly of family and friends.
If you go on our website you can experience some of our material for example Ashley Tracey leaving Manx Radio song.
What gigs have you got coming up?
We always play to a full house in the Laxey Institute for St Patricks evening and a Christmas evening of festive fun. The tickets always get sold very quickly by the Laxey Chemist.
Other venues we play at are Port St Mary Town Hall, Ramsey Church Hall, Dolby Church Hall.
How can people find out more about The Shenanigans Banned?
If you want to know where we will be playing in public in future look for us on Facebook under "The Shenanigans" like us and you will be updated as to what is happening.
Concert-standard we are not but if you like a like a good sing song and some craic we always give our audiences a great evening's entertainment.