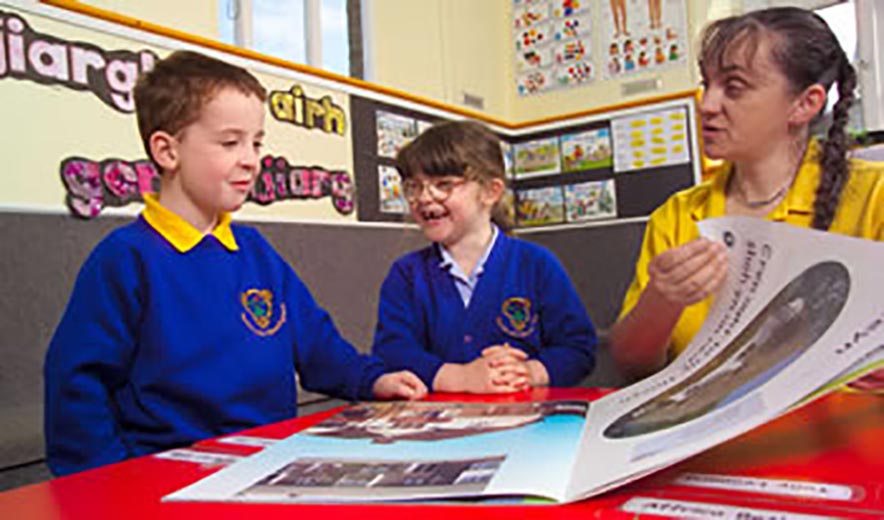 The Manx Gaelic School, or Bunscoill Ghaelgagh in Manx, is a primary school where the children learn every subject through Manx Gaelic. It was established in September 2001 working from Ballacottier School in Douglas.

In January 2003 the unit moved to its own premises at the old St John's School, thus establishing what is now called Bunscoill Ghaelgagh. The school has received some very encouraging feedback from both parents and the Department of Education.

Not only do the children at the school quickly become fluent in the Manx Language they also enjoy the benefits of a bi-lingual education and a learning environment which offers a great insight to Manx culture and music.

It is anticipated that the school will gradually grow over the next few years and that its continued success will play a vital role in the revival of the language
Working together with the school is the Manx playgroup organisation Mooinjer Veggey (Manx for Little people). This was established in 1996 and operates 5 groups in the Island. These are a great introduction for pre-school children who learn the language through songs and rhymes. Many of the children at the playgroups later take up places at the Bunscoill

The language is also taught in the Island's schools. It is an option for all Primary age children and students can take GCSE and A Level equivalent examinations in the language.