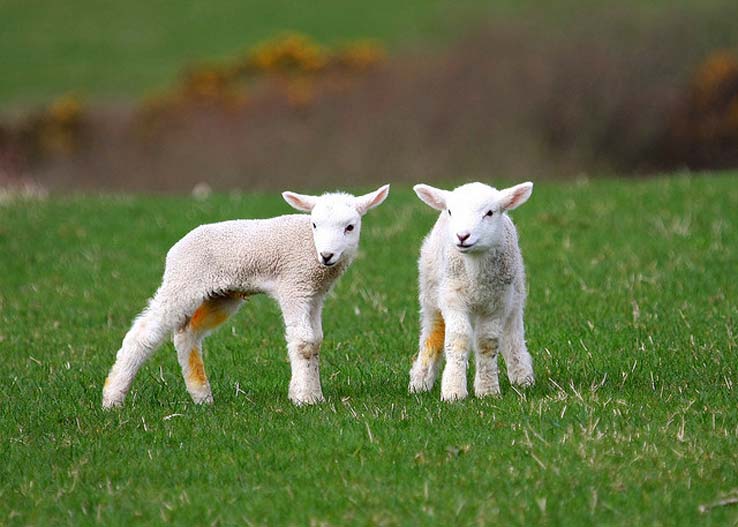 You'll find lots of wild flowers and animals of a wide variety of species during your visit to the Island. Large areas of our countryside are designated as Nature Reserves by the Manx Wildlife Trust, aimed at protecting the species which reside in them. Some of these reserves, alive with the song of birds, are accessible by the public.
To find out when in the year you can expect to see different species out and about, please refer to our Wildlife Calendar.
Differences in Species
According to legend, St Patrick banished toads and snakes from the Island upon his arrival, and you won't find any to this day. British mammals which are notable by their absence from the Isle of Man include voles, badgers, squirrels and foxes. By way of compensation, we can claim two particularly unusual four-legged inhabitants. One is the famous Manx cat, which is tailless and has longer hind legs than most other breeds. The other is the Loaghtan sheep, which has four horns and a rich brown fleece, and is thought to have been introduced by the Vikings.
Manx Bird Life
Manx Bird Life is a charity set up in 1997 to monitor and scientifically research birds on the Island. In 1998, they began their five-year research programme to survey the Island using new and innovative techniques. Research is conducted through both winter and summer months, to provide the Island with its first comprehensive study of birdlife on the Island. The presence of birds is generally accepted as a sign that the environment in which they are living in is healthy, so when fluctuations occur analysis can be conducted to establish what is changing within the environment.
Basking Sharks
The waters around the Island are popular for a certain species of shark, although they are Plankton-eaters so they don't pose any threat to humans. They thrive on the ecological diversity which is present beneath Manx waters.
Calf of Man
Off the southern tip of the Island is the Calf of Man. This small islet is a perfect habitat for many creatures and as such is protected as a nature reserve. Only a few people live on the Island, although boat trips are organised for the summer months to allow you to explore the island for yourself.
Curraghs Wildlife Park
Curraghs is the Island's only wildlife park. This spacious park has a number of different animals, from butterflies to zebras.
Discover Some of Our Flora & Fauna