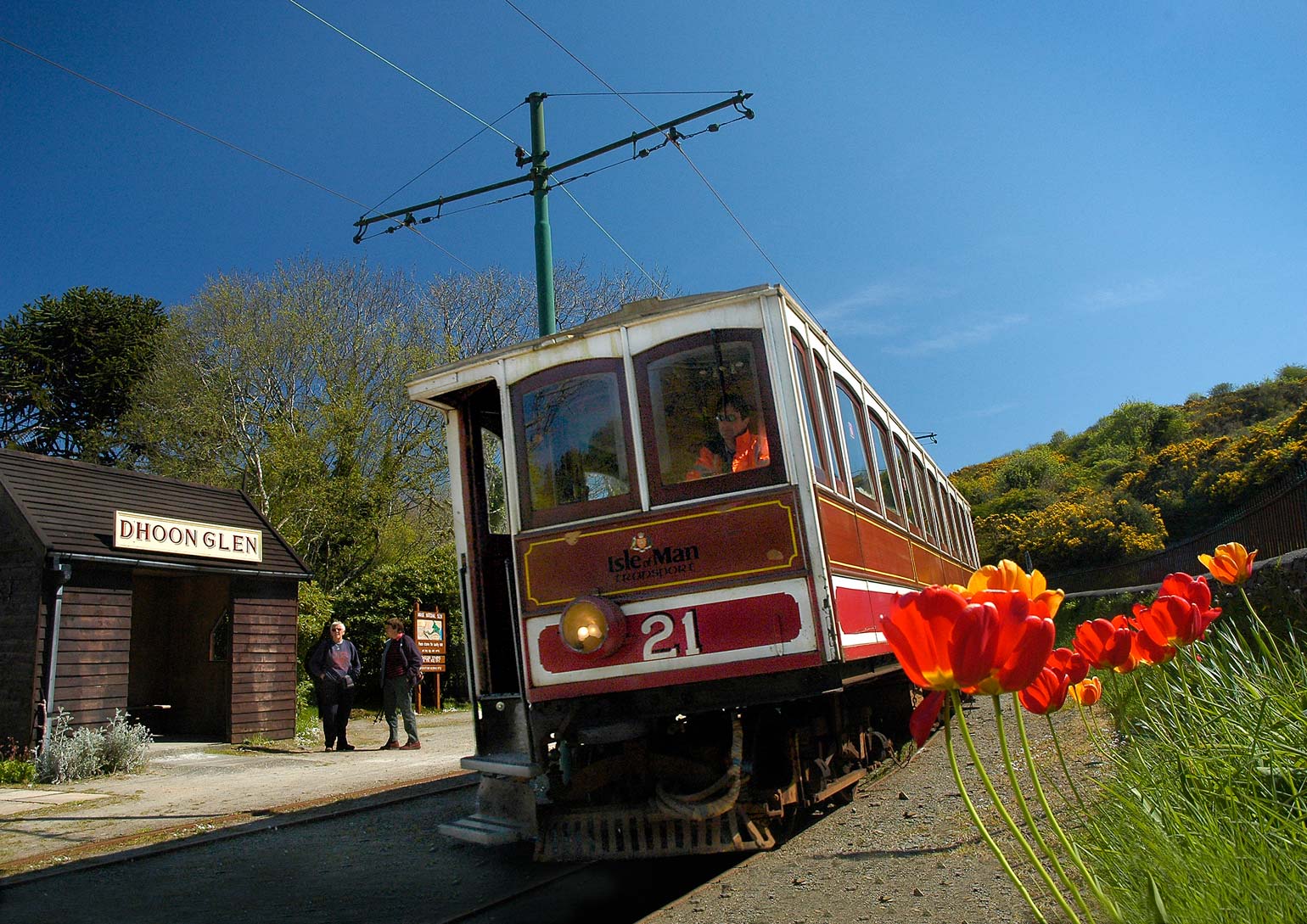 The Isle of Man is remarkable in many ways - and not least for its 65 miles of fabulous Victorian railways and tramways, which attract visitors from all over the world.
The Isle of Man's network of steam trains, electric trams and horse trams enable you to travel from the southern town of Port Erin all the way up to the northern town of Ramsey.

The Steam Train will take you the first part of the journey, to Douglas, from where you can jump on a Horse Tram along the promenade to catch the Electric Railway up to Ramsey.
Many true enthusiasts would argue that a railway isn't a railway without steam. The Isle of Man can oblige. The wonderful Manx steam railway operates locomotives dating back to 1874, on an enthralling 3 foot gauge line which runs between Douglas and Port Erin, taking in Ballasalla, Castletown and Port St. Mary. There is more steam on the Groudle Glen a narrow gauge railway run entirely by volunteers and open at weekends and bank holidays, as well as on Wednesday evenings during summer.
And if rail travel along 16 miles of beautiful countryside and 17 miles of spectacular coastline is not enough to satisfy your appetite, you can spend time in the Island's fascinating railway museum at Port Erin.
What to See
The Douglas horse trams originated in 1876 and provide a novel way to see the promenade at a leisurely pace. They take you as far as the southern terminus of the Manx Electric Railway, which celebrated its centenary in 1993.
All of the Manx Electric Railway's tramcars are original and two of them are the oldest working examples in the world. The line and its overhead wires head north out of Douglas towards Ramsey, running alongside the road to provide motorists with a rare travelling companion.
En route to Ramsey is the picturesque village of Laxey, where the electric railways forms a junction with the Snaefell Mountain Railway, which is also operated by electric tram. The beautiful setting and atmosphere of Laxey Station has generated a number of well deserved awards.
You can buy tickets at the Railway Depots, or you can buy money-saving tickets from any of the Visitor Information Centres around the Island. These can be used on any form of public transport, allowing you to use the trains and trams at your leisure.
For a full list of timetables, fares and more information visit Isle of Man Transport.
Discover More of Our Railways & Tramways