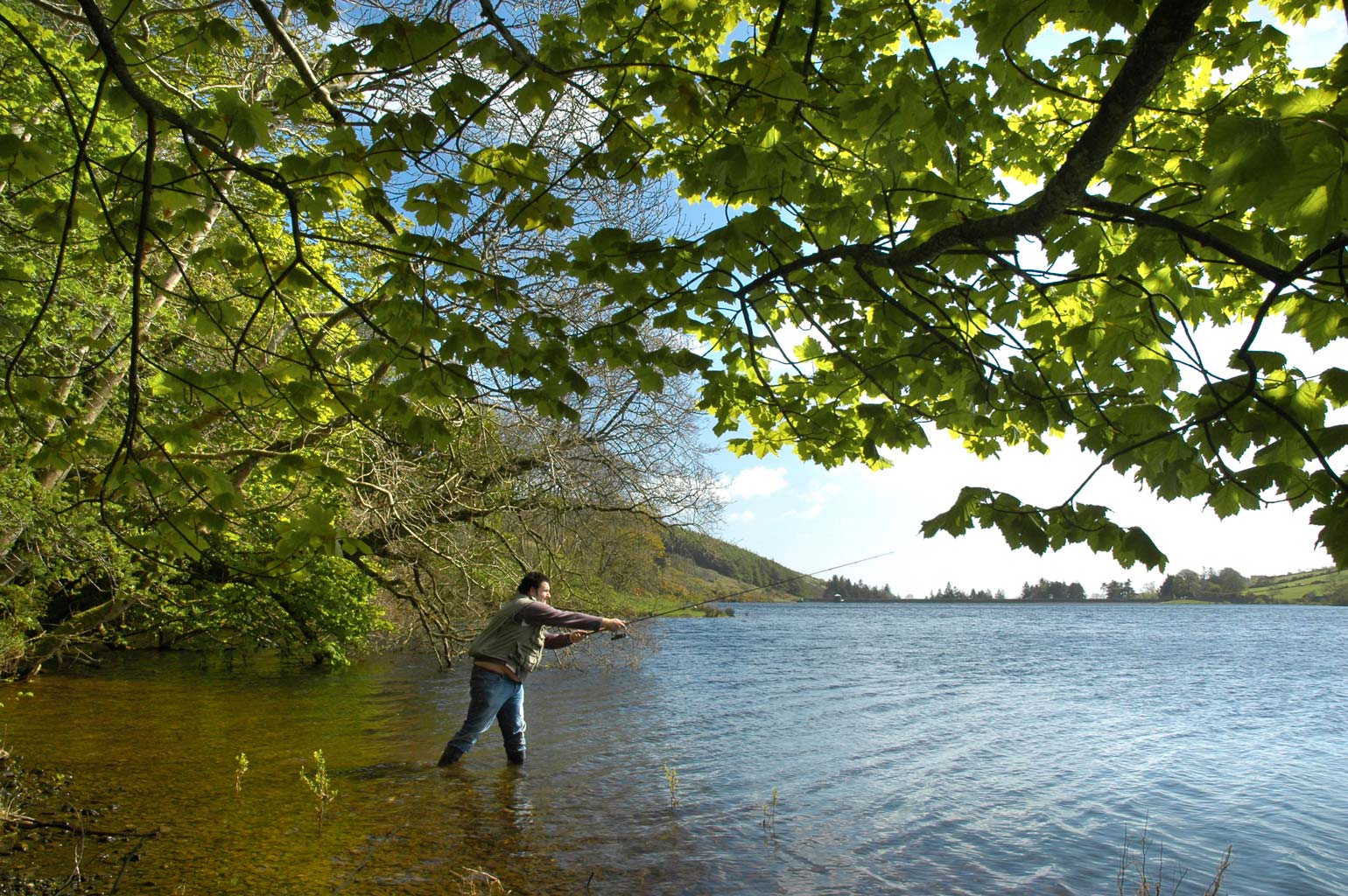 On the Isle of Man there's never far to travel to reach either a river, reservoir or stretch of quiet coastline to enjoy a day's peaceful fishing whilst savouring the tranquility of the Island. In addition, access to most rivers, reservoirs and shorelines is extremely easy.
There are about 95 miles of coastline, ranging from sandy beaches to rocky headlands, tranquil riverbanks plus six reservoirs from which to choose. For one morning you could be fishing at high water at the rugged Point of Ayre, right at the northern most tip of the Island, then in the afternoon, you could be down in picturesque Port St Mary, at the south of the Island, fishing at low water in an area with a distinct maritime atmosphere.
Angling in the Isle of Man offers an exceptional variety of locations, from the promenade and beach in the capital, Douglas, to the peace and quiet of the reservoirs dotted throughout the island and the idyllic settings of the rivers Dhoo, Neb, Silverburn, Santon and Sulby, some of which flow through the picturesque Manx national glens. River fishing is until the end of September, reservoir fishing until the end of October, while salmon and sea-trout fishing take place mainly in late summer and autumn.
Clubs & Events
There is an active angling fraternity on the Isle of Man, with a number of clubs happy to welcome new members. The Island plays host to two major angling events each year - Ramsey Angling Festival in July when there's usually a good run of Tope, and the Mannin Angling Club Angling Festival in Port St Mary during August. This is a large boat fishing festival catering for both charter boats and small boats alike, fishing the inshore reefs around Port St Mary and the Calf of Man. The festival also includes two shore competitions - one from Port St Mary, the other from Peel breakwater.
Pier Fishing
The many piers in the Island offer easy access to lots of very good and varied fishing which is all free with plenty of parking available, (no lugging all your tackle for miles).
Below is a list of the most popular piers and what you are most likely to catch from each particular venue, baits of course depend wholly on which species you wish to target although Sandeel is by far the most popular bait, but many anglers manage very well with Mackerel or Herring with Queenie/Scallop frills catching at one time or another every fish that swims in Manx waters and which are available locally free from shellfish factories, worm baits are excellent and easily collectable with peeler crab taking all the usual species and hardback crab picking out the larger Ballan Wrasse.
Rock Fishing
The rock marks around the southern and eastern coasts offer exciting and varied fishing with double figure Pollack, Coalfish and Mackerel taken by floatfishing, freelining and spinning tactics whilst those anglers not worried about suffering the inevitable tackle losses can send their bait to the bottom to seek out Cod, Ling, Conger, LSD's, Bullhuss and Wrasse which all feed amongst the prolific kelp communities which surround many of the rock marks the most popular of which are Perwick Bay, The Sound, Fleshwick, back of Peel Castle, Douglas Head, Maughold, Niarbyl, Scarlett and Langness.
Beach Fishing
The northern beaches offer all that any beachcasting angler could ask for with all species available including Tope, Bass, Cod, LSD's, Cod, Coalfish and Whiting, some of the more accessible and more commonly fished stretches of beach are Blue Point, Point of Ayre, The Stone Boat, Manx Match, Jurby and The Vollan. There is also a week long shore fishing festival organised by the Ramsey Angling Club.
Boat Fishing
Boat fishing in the Isle of Man is mainly concentrated around the rocky south coasts with the main charter boats port being Port St Mary which gives easy access to some of the most productive inshore reef fishing in the UK with Pollack to 18lbs being the species which most anglers target although Cod, Ling, Conger, Coalfish, Mackerel, Tope, Wrasse, LSD's and Bullhuss are also sought by anglers.
Live Launce (Greater Sandeel) is the required bait and is caught using small feathers over the Warts Sand Bank and are kept alive with aerators before being liphooked and fished on a flowing trace to tempt mainly Pollack, Ling and Cod.
Ragworm is deadly on the boats taking Pollack, Flatfish, Gurnard and Dragonet but also tempting endless attacks by ravenous multicoloured Cookoo Wrasse and NFSA Specimen Ballan Wrasse. The Mannin Angling Club hold a week long charter and private boat fishing festival in the first week of August every year supplying plenty of help to the traveling angler who wishes to have his or her trips booked for him.
Rivers & Reservoirs
Please note that a licence is required to fish any waters other than the sea. Licences are available from the Governments Online Services, the DEFA office in St Johns and from most Post Offices.
Reservoirs
The Island has eight reservoirs varying from sheltered, lowland waters to more exposed upland waters. For safety reasons wading is not permitted on reservoirs and boats are not available. All reservoirs have parking close by apart from Block Eary, but facilities for disabled anglers are limited.
Ballure Reservoir
Block Eary Reservoir
Clypse Reservoir
Cringle Reservoir
Eairy Dam
Kerrowdhoo Reservoir
Sulby Reservoir
West Baldwin Reservoir
Rivers
Cornaa River - starts below North Barrule and meets the sea at Port Cornaa
Laxey River - starts below Snaefell and meets the sea at Laxey.
River Dhoo - flows through the central valley to Douglas. Private fishing up to Braddan Bridge.
Laxey Glass - starts at West Baldwin Reservoir and flows down to Douglas. Fishing is private up to the Tromode area.
Santon River - begins in the Foxdale area and meets the sea east of Ballasalla.
Silverburn - begins in the St Marks area and meets the sea at Castletown.
The Colby River - a stream which rises near the Earystane Plantation and runs down through Colby Glen to meet the sea at Kentraugh.
Glen Maye River - flows down Glen Rushen to the sea near Glen Maye. Past the high waterfall at Glen Maye some nice little spots can be found.
The Neb - rises in the Little London area and meets the sea at Peel.There are a number of deep pools through Glen Helen. The last mile of this stream is heavily fished but further up it is less crowded.
More Information
Comprehensive information on sea and inland fishing on the Island can be obtained from the Department of Environment, Food & Agriculture: Tel: 01624 685857 E-mail: fisheries@gov.im
Tackle
See our Directory for a list of fishing tackle suppliers on the island.
---