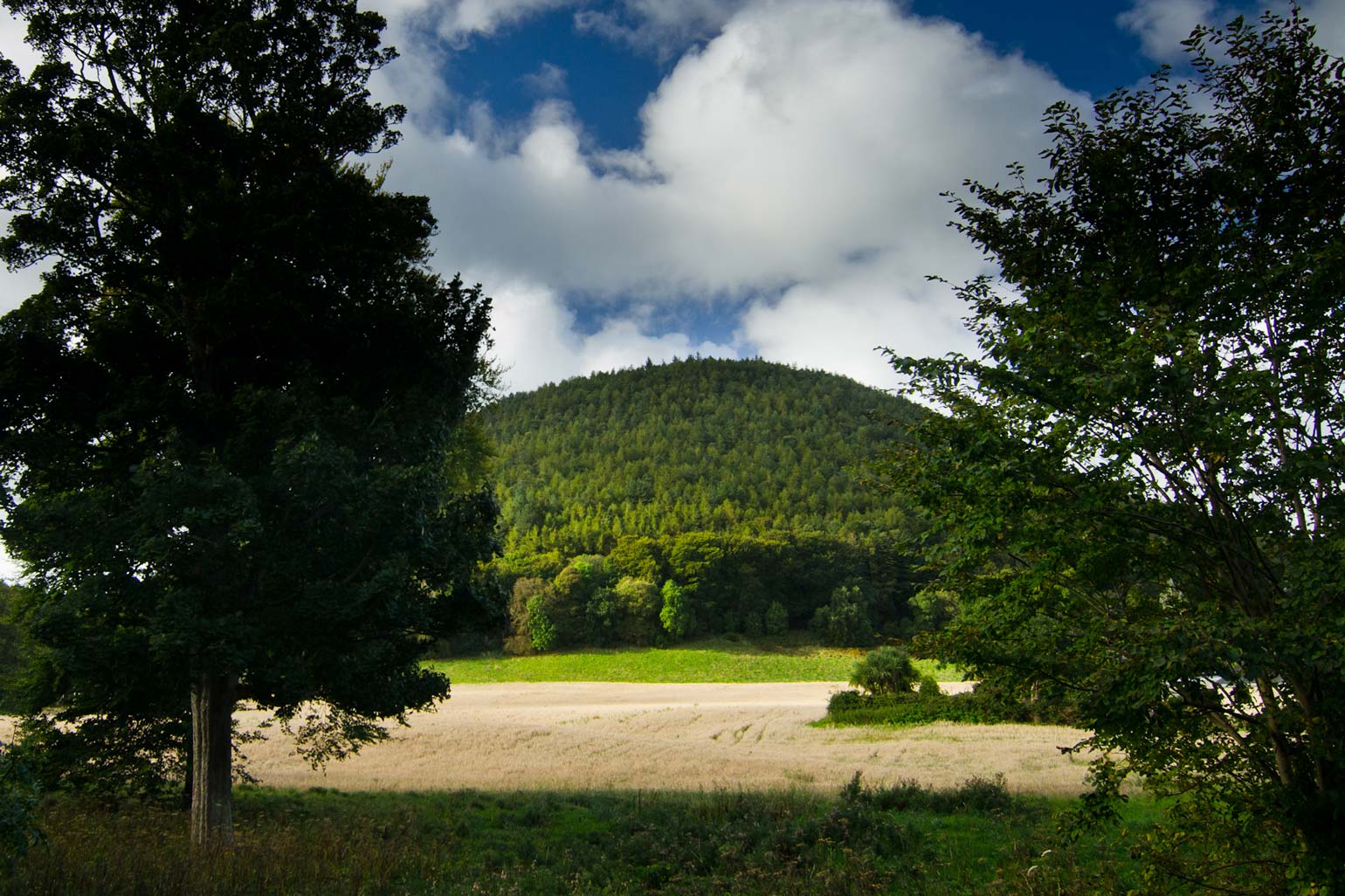 The most striking quality of the Isle of Man landscape is its diversity. Within its 221 square miles there are starkly beautiful hills, lush glens, rolling countryside, rugged cliffs and hidden coves. It is ancient landscape, shaped by man and the elements over centuries.
Stray from the beaten track and, no matter how well you feel you know the Island, there is always another unspoilt corner to discover. The variety of the Island's Great Outdoors provides the nature lover with a wealth of animal and plant life to discover, and lends itself to an array of outdoor pursuits. The Isle of Man presents undreamed of opportunities to get away from it all and indulge every passion for space, fresh air and freedom. Walk for hours on end and experience the rare solitude of a landscape which reawakens all the senses and rekindles appreciation of life's simple pleasures.
The Hills
As a starting point for your journey of discovery, there's no better place than Snaefell, the Island's highest point at 2034 ft. The name 'Snaefell' derives from the Old Norse for 'snow mountain.' It's said that from the summit of Snaefell, you can see seven kingdoms: Man, Scotland, Ireland, England, Wales, Neptune and Heaven. On a clear day, you can certainly see the first five of these! Snaefell makes a short but hearty climb from 'the Bungalow', a landmark on the Mountain Road, and a tougher one from sea level. Alternatively, you can reach the summit the easy way by boarding the Snaefell Mountain Railway (a branch of the Island's Victorian electric railway service) from Laxey. For miles around Snaefell, there is a range of equally beautiful hills where the views and walks are highly rewarding.
The Glens
The Island has 17 glens which are found in both the coastal and hill areas. They are maintained by the Government's Forestry Division in their natural state, free and accessible to everyone. The glens are treasured as havens of peace and tranquillity, characterised by tumbling waterfalls, deep rock pools and lush vegetation. Stroll through Ballaglass Glen in spring with a thick carpet of bluebells under your feet. See the haunting waterfalls of the Dhoon and Glen Maye. In Autumn, the dense woods of Glen Helen make a spectacular sight. It's not for nothing that the glens are the focus of much Manx folklore, said to be peopled with faeries, ghosts and water spirits. Other glens have more earthly attractions, for instance, the miniature railway in Groudle Glen and the children's park and boating lake at Silverdale.
The Beaches
The Island's beaches encompass the best of both worlds. On the northwest coast, there are remote, sandy strands stretching for miles, where you may wander for hours and not see a soul. Other beaches, such as Laxey, Port Erin and Peel, are bordered by busy communities and so, particularly in summer, are lively and popular. Then there are the more secluded rocky coves (once familiar to smugglers!) just waiting to be explored.
Birds & Animals
While several creatures might be notable by their absence - legend has it that St Patrick banished snakes and toads, and there are also no badgers, foxes, squirrels or voles - the Island is far from short of interesting wildlife. Aside from the famous Manx cats and Loaghtan sheep, the keen-eyed may see lizards, bats (there are seven species on the Island), polecats or hares, amongst others. Keep it to yourself if you see a rat - it is considered unlucky amongst Manx people even to say their name. 'R-A-T', 'Joey' or 'longtail' are acceptable substitutes.
The Island is deservedly popular with birdwatchers. It is home to many different bird species, including chough, hen harrier, peregrine, long-eared and short-eared owl, puffin and Manx shearwater. The Calf Sound is one of the Island's important breeding areas for seabirds, and the British Bird Observatory on the Calf of Man keeps detailed records from March to November each year. Between April and September (weather permitting), a short boat trip gives you the chance to spot migrant species and share the home of several seabird colonies. It's also a fantastic place to see seals and train your binoculars for a sight of whales and dolphins.
For a close encounter with more exotic species,Curraghs Wildlife Park in Ballaugh makes an excellent family day out. The damp, wooded lands in which the park is situated provide an adequate habitat for over 100 species of birds, mammals and reptiles. The surrounding marshlands (the 'curraghs' which give the park its name) are rich in bird life and, local legend has it, is also home to escapee wallabies from the park which have now gone native. See if you can spot one…
Plants & Flowers
On the Isle of Man you can take time to visit sand dunes, marshes, wild flower meadows, bluebell woods, heather moorland, heath and coastal grassland - all in the same day. The Island's nature reserves take in all these landscapes and make an excellent introduction to the diversity of wild flowers and other plant life to be found here.
The Manx Wildlife Trust - the Island's largest environmental body - manages 20 reserves covering over 200 acres, which range from small urban sites to 72 acres of heather moorland. They protect important habitats such as coastal dunes, woodland and hay meadows rich in orchids and other wildflowers. Each reserve is managed in a way which aims to maintain or enhance the habitat and increase the diversity of the flora and fauna.
The Ayres nature reserve, at the northernmost point of the Island, is particularly notable for its unique ecology. Its shingle, dunes and heath are home to some of the Island's rarest plants and an important breeding ground for several bird species, including Little Terns.
Out and About
Walking
The Isle of Man offers everything a walker could want: ever-changing scenery, diverse terrain and a mixture of easy and challenging routes. In addition to the Raad ny Foillan (the Island's coastal path), there are several long distance paths which take in the best of the island's scenery.
The Millennium Way is 28 miles long and an historic King's Highway linking the royal landing place at Ramsey with the ancient seat of government and royal residence at Castle Rushen, Castletown.
The Bayr ny Skeddan ('Herring Road') is a 14-mile walk between Castletown and Peel, based on the route once used by Manx fishermen.
The Heritage Trail, 10.5 miles in length, is an easy walk along disused railway lines from Douglas to Peel.
Cycling
The Government's Department of Community, Culture and Leisure manages six cycle trails across the Island which give pedal power to cyclists of every level of ability. The trails start in Ramsey, Castletown, Peel, Laxey, Port Erin and Douglas. The Island is also a great natural playground for mountain bikers. The Manx Mountain Bike Club offers comprehensive information on suggested routes and has also been instrumental in helping to create tailor-made trails through some of the Island's plantations.
Pony Trekking
There are several riding schools located around the Island which offer opportunities for trekking. Whether you're an experienced rider or an absolute beginner, it's a leisurely way to explore the countryside and unbeatable on a sunny day.
Trail Riding and Quad Biking
If you prefer your excursions to be a little more high-octane, there are several places on the Island from which you can hire quad or enduro bikes. The Island has a network of 'green lanes' covering miles of heather-clad uplands and plunging valleys. What better way to fuel up on fresh air and adrenaline?
Camping
There are several well-established campsites around the Island which provide excellent bases for exploring the Manx countryside. Family-friendly and equipped with good facilities, the sites are normally very popular during the TT and Grand Prix events, so it is advisable to book well in advance if you are planning to visit the Isle of Man at this time.
Angling & Fishing
On the Island, there's never far to travel to reach either a river, reservoir or stretch of quiet coastline to enjoy a day's peaceful fishing. In addition, access to most rivers, reservoirs and shorelines is extremely easy.
Angling in the Isle of Man offers an exceptional variety of locations, from the promenade and beach in Douglas, to the tranquil reservoirs and rivers, some of which flow through the beautiful Manx national glens. River fishing is permitted until the end of September and reservoir fishing, until the end of October. Salmon and sea-trout fishing take place mainly in late summer and autumn.
The Island also plays host to two major angling events each year Ramsey Angling Festival and the Mannin Angling Club Angling Festival in Port St Mary.
It is necessary to have a licence for both river and reservoir fishing; these are available from Tourist Information and Post Offices.
Discover Our Countryside